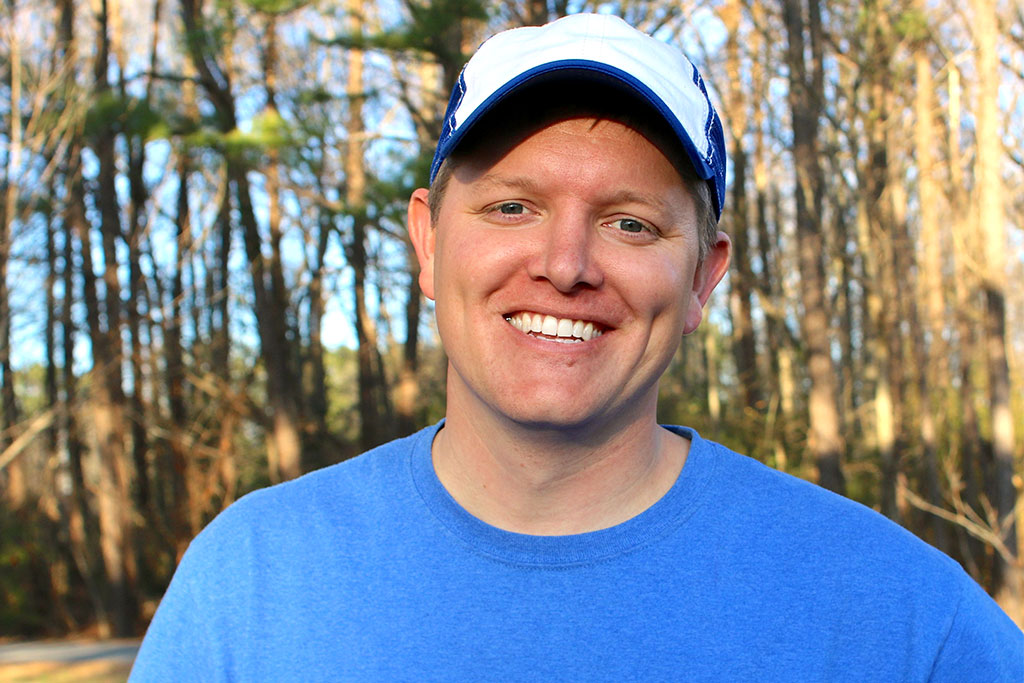 HUNTSVILLE, Ala. (March 31, 2014) – Teaching may be the noblest profession, but for Destin Sandlin, it is also an excuse to light cigarettes with a laser, fire an AK-47 underwater, and get leaf-cutter ants to carry a sign. That's because Sandlin is the host of Smarter Every Day (SED), a YouTube series that seeks to make science accessible – and interesting – to the average person.
"People think I make videos about things that I already understand because I'm so smart, but they're wrong because I'm not smart!" says Sandlin, whose videos regularly log hundreds of thousands of views. "And that's the point of the videos – they're a voyage of discovery for me as well."
And indeed, discovery has long been Sandlin's passion. Some might even say it's in his blood, given his own grandfather's interest in the world around him. "Granddaddy didn't have a set of encyclopedias at his house," he says, "so he would come over to our house, sit on the floor, and read ours."
Sandlin's father, meanwhile, would often challenge his son to take a closer look at everyday things. "We used to play a game called 'Do you know?' where my dad would ask me questions like, 'Why are leaves green?'" he says. "He knew a lot of the answers, but when he didn't, we'd look them up."
So it's no surprise Sandlin ended up majoring in mechanical engineering in college, before earning a master's in aerospace engineering from The University of Alabama in Huntsville (UAH). "I've always known I was going to be some type of engineer," he says.
That may explain the impetus behind the video that ultimately launched SED, How to Light a Bonfire with Rockets, which Sandlin filmed in 2007. "I just made it because I wanted to," he says, figuring the only other people interested in it would be the dozen or so friends he shared it with.
But once it started racking up hits, he knew he had something special on his hands. "I realized that the only difference between what I was doing and a formal brand was a name to associate it with, so I came up with Smarter Every Day," says Sandlin. "And once I did that, it exploded!"
Since then, he's made more than 100 SED videos, including his two most recent, The Physics of Skating on Ice and Slapshots in Slow Motion, shown here:
Production for both allowed Sandlin to return to his alma mater, where he met up with UAH's Director of Hockey Operations Nick Laurila and several Chargers. "Since people have a personal connection with me because of the series," he says, "I thought they would be interested in players from the school I went to."
And no doubt these two videos, like his others, will be viewed by hundreds of thousands around the world. But no matter how big SED becomes, Sandlin says his goal is the same as it was six years ago – to have fun and to teach people. "I'm not trying to build the 'Empire of Destin'," he says.
I just look at the world differently, and every day I teach other people to do so as well.
He's not relying on SED to get rich, either. Although he has garnered sponsors like Amazon's Audible.com and generates ad revenue from YouTube, Sandlin's real income comes from his day job as a flight test engineer at the Redstone Test Center. All of which doesn't leave the married father of three with a lot of free time.
"I don't sleep very much," he says with a laugh, before adding that he is fortunate to get a lot of help – and support – from his wife. "She is my sounding board, so she watches my Smarter Every Day videos and tells me what's good and bad!"
As for what's next for this self-declared "tinker-thinker," Sandlin says that's the most popular question he gets asked – and even he doesn't know the answer. "I just look at the world differently," he says, "and every day I teach other people to do so as well."
---
You may also be interested in: