HUNTSVILLE, Ala. (March 21, 2014) – If you had to guess what Charlotte Ellett, co-founder of game development company C63 Industries, majored in at The University of Alabama in Huntsville, you might go with computer science. What you probably wouldn't go with is what Ellett actually chose – philosophy and political science.
"At that time, I was interested in being a writer, and I had a liberal arts scholarship," says the Hollywood, Ala. native. Computers, and computer programming, was something Ellett pursued on the side, first as a hobby and then later as a website programmer and developer for organizations like HudsonAlpha.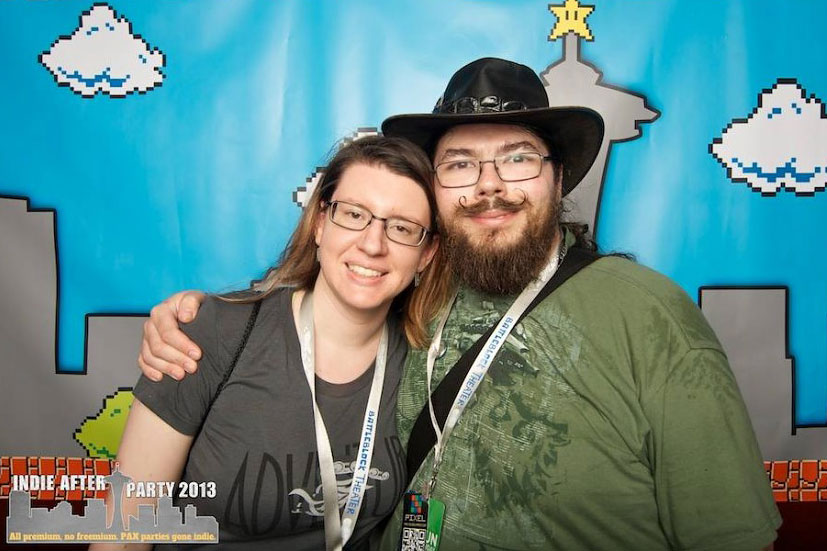 It was only at the suggestion of her longtime friend Jesse W. Schirmer, C63 Industries fellow co-founder and a full-time employee at Curse, that she began to consider making a career out of development. "We started working on a game that people were interested in, but we needed to start a company to sell," says Ellett. "So we said let's do it!"
And they have. Now, Ellett and Schirmer are about to release their very first game, Pixel: ru² (Are You Squared). "Pixel is a platform puzzle game, so you're jumping on platforms but you also have concepts like changing the gravity," she says, adding that other features include a drag-and-drop level editor with a logic engine, shooter mechanics based on color theory, and a stereoscopic 3D mode for devices like the Oculus Rift.
Currently available for purchase on the company website, Pixel is also on Steam Greenlight, a platform that enlists the community's help in selecting games to be sold on Steam. If it garners enough interest, it will then be greenlit and released on Steam, where it can be purchased and downloaded for Windows and – in the future – for Apple and Linux.
To that end, Ellett and Schirmer are trying to boost Pixel's visibility by demoing it at gaming conventions like PAX East in Boston, PAX Prime in Seattle, and Con Nooga in Chattanooga. "When we go to a show, we ask people to vote for us," says Ellett, who adds that so far they're "doing pretty good."
But she's learning the hard way that marketing is not as easy as it looks. "It's tough – a lot of people are interested in game development, but business development is important too," she says. "When we started out, we didn't know much about things like selling it on our website, so that was something we had to learn."
Fortunately, neither Ellett nor Schirmer are counting on Pixel to be the next Flappy Birds, though of course that would be nice! Rather Ellett's goal is to just "make a living" as a developer, an approach that she says is inspired by well-known game developer and co-founder of id Software John Carmack.
"He has a great quote about if you have a computer and the resources to live, you can do anything you want online. So that's what I'm trying to do," she says. "Right now this is my full-time job and I hope it continues to be; I'm happy with working for myself and making things."
And it appears she will be able to continue to do so into the foreseeable future, thanks to what she refers to as the "wild west" of app development. "It was feasible before, but today it's easier than ever," says Ellett. "For people who are interested, there are all kinds of resources online about how to teach yourself about computers."
That includes students who may be majoring in something other than computer science, much like Ellett herself did. "I think it's important to encourage students to take a project they're passionate about and go do what they want with it and learn that way," she says. "I hope to see a lot more people doing it."
---
You may also be interested in: