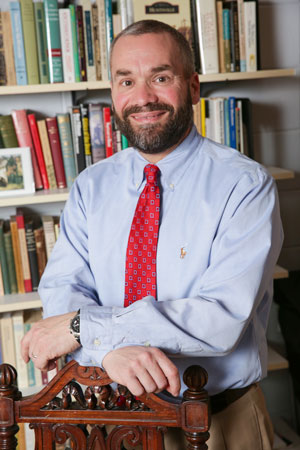 HUNTSVILLE, Ala. (Jan. 21, 2014) - Dr. John Kvach, professor of history at The University of Alabama in Huntsville (UAH), will be awarded both the Historic Preservation Award and the Historic Preservation Medal by the National Society Daughters of the American Revolution (DAR) at a luncheon being held at 11 a.m. on Thursday, Feb. 6, by the Hunt's Spring DAR Chapter.
"My initial reaction to being nominated was excited, but I almost felt like there was no way I was going to win!" says Dr. Kvach. "You hear 'national award' and you don't really associate yourself with that. So for me it was a new feeling to think that someone thought enough of me to put my name forward."
But for Sue Royer, who completed the application for his nomination, Dr. Kvach was nothing short of the ideal candidate. "Through his volunteer community and state-wide historic preservation work, Dr. Kvach has promoted public awareness of the importance of preserving our heritage," says Royer, who is a member of the Hunt's Spring DAR Chapter and also serves as the Deputy Director of the Huntsville Madison County Public Library. "He has brought history to life through creative events and activities that appeal to all ages."
Indeed, just a quick glance at Dr. Kvach's list of contributions to historic preservation in Alabama can attest to this. Highlights include founding the state's first Center for Public History at UAH, editing the Huntsville Historic Review for the past five years, serving on the board of directors for the Alabama Historical Association and the Huntsville/Madison County Historical Society, publishing a pictorial history of Huntsville , winning a prestigious "Saving Our History" grant from the History Channel to document aspects of the Civil War in Madison County, and collaborating with the Smithsonian and Alabama Humanities Foundation to record the oral histories of Alabama's rural residents.
But for Dr. Kvach, winning the award and the medal - while treasured - comes second to his work. "I am genuinely appreciative and humbled by the honor, and it feels good to be recognized, but that's not why I do it," he says. "More important to me is that this accomplishment lends credence to my efforts and adds visibility to the historic preservation going on in the state of Alabama."

Click to listen. In this podcast from the Alabama Historical Association, Dr. Kvach discusses the 2013-2014 Museum on Main Street traveling exhibit, "The Way We Worked," his role as the lead scholar, the value of oral history and public history, and his hopes for the future of Alabama history.
***
National Society Daughters of the American Revolution was established in 1890 and, for more than a century, has been dedicated to the goals of historical preservation, promotion of education, and encouragement of patriotic endeavor. The DAR Historic Preservation Award honors individuals with a distinguished record in historic preservation. The DAR Historic Preservation Medal honors individuals whose volunteer service, promotion, and dedication to historic preservation have made a distinguished contribution.
---
You may also be interested in: