From Duck Pond To Downtown DC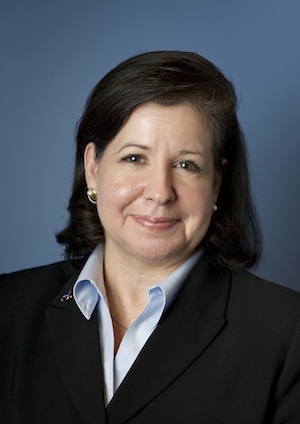 This past September, one of UAHuntsville's own, Dr. Barbara Giles, was appointed to the position of Director for NASA's Science Mission Directorate Heliophysics Division. Despite an incredibly busy schedule, including "developing policy and providing guidance for understanding the physics of the variable Sun and its influence on the Earth and other planets, and space environmental conditions and their evolution," Dr. Giles recently took some time out to discuss her career and reminisce about her years as a student at UAHuntsville.
Q: Why did you decide to go UAHuntsville?
BG: It's where I always thought I would go. One thing you may not know is that Huntsville is my hometown. I grew up on Redstone Arsenal, and then I lived right next door in Sherwood Park. I used to ride my bike to the duck pond on campus and feed the ducks. So when it came time to go to college, it was natural for me to walk in the door at UAHuntsville and register for classes.
Q: Was there something specific that you felt UAHuntsville could offer you as far as your career goals?
BG: My dad worked on missiles for the Army, and I wanted to do what my dad did. And Huntsville is capital of missiles, so that's another reason why I chose UAHuntsville. Moreover, the school has a wonderful Engineering Department, and when I started, I thought I would major in engineering. Those were the first classes I signed up for. But a couple of quarters in, I was looking at the catalog and I just thought the courses offered by the Physics Department were more in line with what I wanted to do long term; I wanted to understand how things work. In engineering, you're looking more at applied sciences and building systems. But I was really interested in what was underlying all of those systems. I wanted to know how missiles operated, as opposed to just building them.
Q: And now your focus is heliophysics. What led you to that?
BG: Heliophysics is all about electricity and magnetism in space, and those are my favorite subjects. Not everyone has that as their favorite subjects! But I'm just fascinated by electric and magnetic fields. Our Earth's extended environment is controlled by those fields – they control our atmosphere and retain our atmosphere – and in the long term, they will help us understand why there is life on Earth.
Q: Was there anyone who had a significant influence on you or your research during your time at UAHuntsville?
BG: There was. I actually have a double major in physics and math, because you have to take so much math as a physics major. You just take 3 or 4 more classes and you can double major! And at that time, the math professors were so engaged with the students. So not only did my advisor, Dr. R. Hugh Comfort, mentor me, but there were also several math professors like Dr. Larry Foster, Dr. Kyle Siegrist, and Dr. Chia Hwa Chan who worked with me and the other physics majors. They did a lot of tutoring outside of class with groups of students and they would spend extra time with us. That made a big difference.
Q: How would you describe your experience at UAHuntsville?
BG: It was very positive. Because I was also a co-op student, I was able to work as a student trainee in space science at Marshall Space Flight Center (MSFC) all during my undergraduate years. So in a sense, I really ended up attending both UAHuntsville and the "University of NASA." Then one day I was in a meeting and I started looking at the people around me thinking, 'I could do this.' So I just kept going to school.
Q: How did you balance your graduate work with your career at NASA?
BG: NASA hired me fulltime at MSFC when I graduated with my bachelor's degree. But even though I was so engaged with the mission we were building there at MSFC, I continued taking graduated classes at UAHuntsville. And they made it very possible for students like me to continue with their education while they worked; the classes in the Physics Department were scheduled from 4-6pm or 6-8pm. So I worked all day and went to school at night and ended up getting both my master's degree and my PhD from UAHuntsville.
Q: Do you or did you face any special challenges as a woman in the sciences?
BG: UAHuntsville and MSFC have always been extremely supportive of women in the sciences, at least in physics. No one made me feel uncomfortable. And that really enabled me to pursue this career, to have that support on both sides. But it can be a challenge as time goes on, when you're married and want to have children, to do all of these things.
Q: Given that, what advice would you give to young women in the sciences today?
BG: Believe that they can have a family and work in the sciences – and not try to do everything at once! Take it one step at a time. One thing I did early on in my career, I did not travel as much as many other scientists, because I wanted to raise my children. In some ways that can slow your career for a little while, but if you're patient, it's not a problem in the long run. I think it's about being patient with yourself, so you can pursue a good career in the sciences and also have a fulfilling personal life.
Q: Would you encourage young students in your field to go to UAHuntsville?
BG: I would, especially because of the surrounding community. It's such a high-tech environment here and there are so many opportunities to learn while you're a student, whether through internships or co-op experiences. And the city itself is one where you can take your time and get the educational experiences you need. Personally, I highly recommend the duck pond! I spent many hours as a student sitting on the benches by the duck pond. Then, when I was older, I took my kids there and they fed the ducks while I studied!
Q: Do you ever miss Huntsville, now that you live in Washington, DC?
BG: I do miss the city, but my family still lives there. I get lots of time to come and visit.