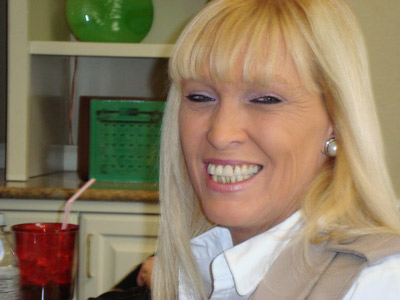 HUNTSVILLE, Ala. (Oct. 31, 2013) - Non-traditional students are not uncommon at The University of Alabama in Huntsville (UAH), whether they're veterans returning to complete their degree after a tour of duty or parents who have taken time off to raise their children before finishing their education.
But senior psychology major Deanna Nicholas, who will graduate with honors in May, is perhaps one of UAH's most non-traditional students. A high-school dropout and runaway at age 16, Nicholas became addicted to alcohol and drugs before turning her life around ten years ago.
"I got sober to rescue my daughter, Heather, who was 15 and following in my footsteps," says Nicholas, a native of West Palm Beach, Fla. "I said, no more. She deserves better." Sadly, however, her recovery came too late. Heather passed away at age 18 after her own struggle with drugs and domestic violence.
Devastated, Nicholas was determined to do something to stop the cycle. "If I gave in and went back to where I came from, no one was going to get helped," she says, least of all her young son Mikey. "So I had to do something about it. I needed an education."
Thus, "to not die of a broken heart and to honor Heather's memory," Nicholas decided to apply to UAH to pursue a degree in psychology. "If I could help one person make a change in their life, it would be worth it," she says, "and I knew psychology was the key to that."
At the time, however, she was working for Red Lobster to support herself and Mikey. But far from it being a conflict, she says, "they bent over backwards to help me, especially my manager, Robert Hernandez."
In addition, she received several scholarships, including a $5,000 Emerge Women's Empowerment Scholarship - "That was a big motivator!" she says with a laugh - the Super Scholar Transfer Scholarship, and a scholarship from UAH's Women's Studies Department.
Combined, those enabled her to enroll at UAH in the summer of 2011. She even earned a place in the Honors College, where she says she's been "exposed to classic works like Plato and Aristotle that have given me a foundation for my knowledge and application of psychological theories to my experiences."
But being a student, even an Honors student, and feeling like you belong on a college campus are two different things, and Nicholas found herself thinking that "a girl from a trailer park doesn't belong here."
That is, until she confided in UAH psychology professor and counseling psychologist Dr. Eric Seemann. "I said, I'm old and tired and afraid people will look down on me," she says. "And he said, 'You have a purpose. Now grab ahold of it.' He really boosted me up."
If I could help one person make a change in their life, it would be worth it.
Deanna Nicholas
UAH Honors student
Just as supportive was UAH psychology professor Dr. Sandra Carpenter. "About two weeks into class, she asked if I wanted to work in her research lab," says Nicholas, referring to Dr. Carpenter's Teamwork and Social Cognition Laboratory. It was the beginning of an enduring partnership.
Today, Dr. Carpenter serves as advisor on Nicholas' honors thesis, an examination of the link between poverty and domestic violence. "If you think about it, people under more financial stress are going to fight more," says Nicholas, who as a long-time volunteer for Crisis Services of Alabama has seen plenty of anecdotal evidence.
The challenge, however, was finding objective empirical data to show this that this pattern is systematic and widespread. So Nicholas spent this past summer collecting data from the Bureau of Justice Statistics and the Census Bureau, which she then analyzed by comparing the number of reported acts of intimate partner violence with the number of people living in poverty.
The results? A correlation of 0.8. "In the social sciences that's huge," says Dr. Carpenter. "And it certainly makes sense given what we've seen in the literature, but on a bigger scale, since Deanna was able to collect data over a larger geographical area."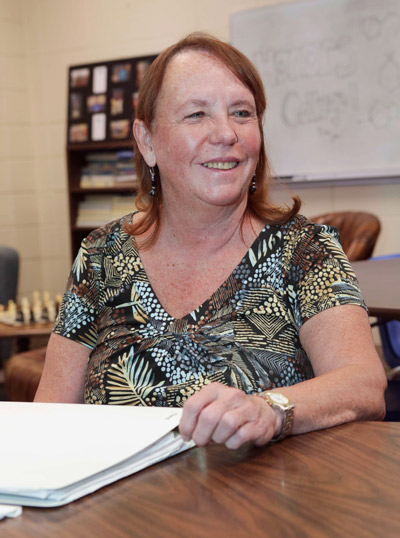 But as Nicholas is quick to point out, correlation and causation are not the same things. "You can't say poverty causes domestic violence," she says, adding that there are many other risk markers like history of abuse, alcoholism and/or addictions, low self-esteem, unstable or inconsistent support networks, and education. "All of these factors exist concomitantly on a larger scale."
And with that in mind, Nicholas is already focused on the next step - breaking the cycle by tackling not just one of these risk markers, but all of them. "We need vocational training, education, targeted counseling, family counseling, and perpetrator intervention - it needs to be a holistic approach," she says.
Enter the North Alabama Women's Community Equity Project (NAWCEP). "I've been working on it the past two years," says Nicholas, who already has a business plan and is currently looking for funding. "Women should know they have a choice to make a difference in their lives."
Whether she'll be the one to run it depends on what she decides to do after graduation. "I want to be a licensed clinical social worker, but I'm also considering going to graduate school to become a researcher," she says. "So even if I'm not able to oversee NAWCEP, the groundwork will be laid."
But no matter what Nicholas ends up doing, there's no doubt this non-traditional student has weathered nearly insurmountable obstacles to become an unqualified success. "Many times people are victims of their circumstances," she says. "Thank God I was able to go to school and stop the cycle for my son."
As for her daughter, Heather, while she may not be there in person to see her mother accept her college diploma, she will be there is spirit. "I know she is proud of me," says Nicholas.
---
You may also be interested in: