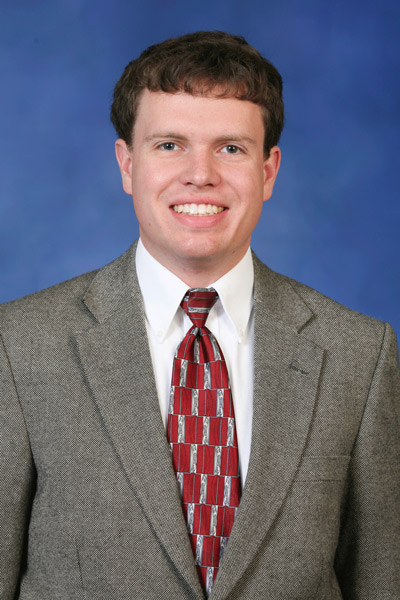 HUNTSVILLE, Ala. (Oct. 7, 2013) - Ever since Matthew Hitt was a student at Covenant Christian Academy, he knew he wanted to work in the aerospace industry. "I became interested in engineering, and more specifically in missile defense, after a fieldtrip to take part in Engineering Day on the Arsenal," says the Huntsville native.
Hitt is currently pursuing his Ph.D. in mechanical engineering at The University of Alabama in Huntsville (UAH); his research is specifically focused on characterizing low frequency instabilities in cryogenic feed systems for liquid rocket engines.
In addition to his studies, Hitt was also elected president of the UAH chapter of the American Institute of Aeronautics and Astronautics (AIAA) for the 2013-2014 academic year. "The group's main goal," he says, "is to educate students about the different aspects of and career opportunities available in aerospace engineering."
The chapter frequently invites professional and academic speakers talk to their members about aerospace engineering, and members also attend student and professional conferences. Hitt says the conferences are especially important because "they allow students the chance to gain experience presenting their research and projects in a professional environment."
The group has about 50 active members, of which just a handful are in leadership positions. But, he says, "we have a good group of officers and work well together." That support allows Hitt to balance yet another commitment with his already busy schedule: his job at the UAH Propulsion Research Center.
His hard work hasn't gone without recognition, however. This year, Hitt was awarded the Science, Mathematics and Research for Transformation Scholarship sponsored by the DOD, which is awarded to civilians who excel at the theoretical and applied research.
"I was excited to get the scholarship because it not only pays for my classes, but it also provides me with a job at DOD when I graduate in 2015," Hitt says. And that, after all, was his goal all along.
---
You may also be interested in: