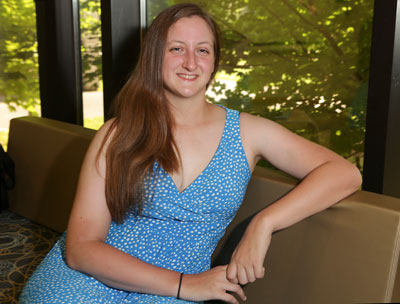 HUNTSVILLE, Ala. (July 17, 2013) - Melissa "Birdie" Jones has declared several majors over the years she has been attending The University of Alabama in Huntsville (UAH), all in the hopes of one day landing a high-paying job.
"I have actually been through about six different degrees from psychology to foreign languages to political science to nursing," she says with a laugh. "I couldn't find what I wanted to do for a career."
One major she didn't consider, however, was communication arts, despite her longtime interest in both music and dance. And focusing on theater in particular? "Theater wasn't even on the table," she says. "I never looked at it as something I could make a career out of."
All that changed, however, the night she met David Harwell, an associate professor in UAH's Theatre Department.
"I had ushered for Dido and Aeneas so I could see the show for free," she says, referring to the department's 2009 production of the Henry Purcell classic. "And at the after party, David asked me why I hadn't tried out."
Jones told him that she was "too chicken," so he asked if she had any interest in being an assistant director instead. "He had known me all of three minutes. I thought he was kidding so I said yes," she says.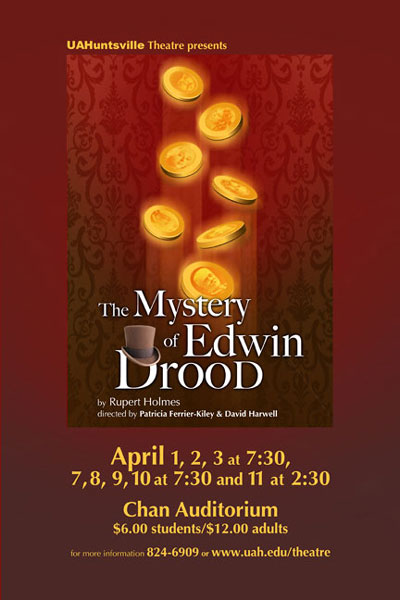 Two weeks later she received a one-line email from Harwell letting her know rehearsals started at 2pm that day. When she arrived, she says, "he handed me a clipboard with a schedule and contact sheet and said, 'Ok, get this reading started for me.'"
Somehow she managed to get through it without panicking. And afterward, Jones says, she felt a kind of serenity. "It was one of those few times where things like this fall in your lap for a reason, and David wanted me to do it for a reason."
That reason? Jones' inherent people skills, says Harwell. "When I first laid eyes on Birdie, I knew she was a people person," he says. "She listened well and spoke well and had a light that would just about set you on fire."
And he was right. Jones hit a home run on the set of her first production, The Mystery of Edwin Drood, going far beyond just being an assistant director. "I ended up stage managing, making sure everything ran smoothly, that all the different departments were talking to each other," she says, "and while I was doing it I felt pretty good."
But after the run ended, she continues, she was overcome with a different and perhaps unexpected emotion - loss. "The cast was like, 'We're free!' And I remember I was like, it's over, I had such a wonderful time, but now I don't get to do it anymore," she says.
So she went up to Harwell in tears and asked him if she could stage-manage another production. His response? "He said he'd let me do this as much as I wanted until he had to send me off to some place bigger and better," she says.
Her next major production was Sunday in the Park with George, a musical about the French Post-Impressionist painter Georges-Pierre Seurat. It was during that run, she says, that she really began to consider the possibility of a career in theater.
"That was the show where I went, I can do this. I think I'm going to do this," she says, citing as inspiration the musical's famous line "It's not so much do what you like, as it is that you like what you do" from the song "Children and Art."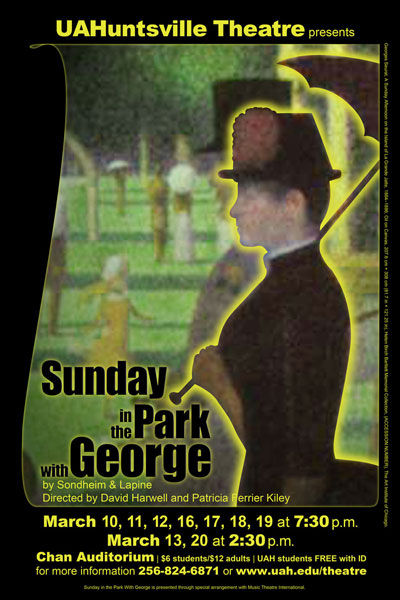 She received further confirmation of her decision after one performance in particular, which was attended by an adjudicator contracted by the Kennedy Center for the Performing Arts - not that Jones knew it at the time. "David didn't tell me until about 30 minutes before the show!" she says.
But it didn't matter. After the show, she says, "the adjudicator proceeds to give me the greatest praise of anything I've ever done in my life ever. And he didn't know me from Adam! He said, 'I really think that you should do this as a career.'"
It was then that Jones says she went home and sat down with her husband to talk about the future. "I said, I think we're going to have a change of plans. I have to sit down and talk with David and see what that entails. But I think that's what I'm going to end up doing."
Ultimately what it entailed was getting more experience, but on a much bigger stage. So Harwell asked Jones to accompany him to the 2012 Southeastern Theatre Conference, so she would be able to network with professionals in the field and possibly land a summer job. Which is exactly what ended up happening.
That's because John Tissue, an old friend of Harwell's from his days in the New York theater, was also attending the conference. Tissue, as it turns out, had since become the artistic director of Unto These Hills, an outdoor resort theater in Cherokee, North Carolina. And he was looking for a stage manager.
"David pointed at me and said, 'You want her'," she says. "And John looked over at me and he was like, "Ok, tell me about her'." That led to an interview with Tissue the following day, one Jones admits she was woefully unprepared for.
"I didn't know what summer stock theater was - and I didn't know how to type a resume!" she says, laughing. "But the next day I Googled stage managers to see what to put and I typed my resume on the hotel computer."
It worked. "Basically he offered me a job on the spot," she says. But as her May start-date loomed, she started to reconsider. "I wasn't ready for professional outdoor theater. I didn't know anything about anything!"
So Jones told her husband, hoping he would sympathize and stop her from going. "But he was more supportive than anyone. He gave me no port in the storm," she says. "So I went - and I will never forget how terrified I was. I was the most afraid I'd ever been in my life!"
And yet, as she looks back now, she says without hesitation that it was "by far the greatest summer of my life." She not only honed her pre-existing stage managing skills like communication and diplomacy, but she also picked up some news ones, like stage combat, Filipino stick fighting, and pyrotechnics. ("Here's a news flash," she says. "They're real fun!")
The experience also sealed the deal for her as far as deciding to make a career out of stage-managing. "You have it beaten into you that you can't make a living in the arts," she says, "but I can make a living - and have! It doesn't pay as well as my husband's IT job, but it pays."
And while she says she isn't ready for Broadway - "New York would eat me alive" - she is open to whatever may come next. "I've learned my lesson in that regard, in trying to make plans!" she says.
That includes staying in Huntsville, and more specifically, at UAH. "For a while I thought getting a degree would be my ticket out of here," she says. "But at the same time I don't really want to move."
Now she can even see staying on to build a stage-management department. But either way, she says, with a smile, "I'll hold David to his promise of I can stay until he has to send me somewhere else."
You have it beaten into you that you can't make a living in the arts, but I can make a living – and have!
Melissa "Birdie" Jones
UAH Student
---
You may also be interested in: