Engineering student decides his future is in theater
HUNTSVILLE, Ala. (May 29, 2013) - Many college students know exactly what they want to be after they graduate, while others take their time deciding. And still others think they know before they realize their passion lies elsewhere. That's what happened to Tom Gray, a rising junior at The University of Alabama in Huntsville.
Choosing a Path
As a kid, Gray had always enjoyed building things, whether it was making cabinets in the high school woodshop in Hamilton, Ala., or framing houses for Habitat for Humanity. "I've been working with my hands since I could walk - I can't even remember when I got my first tool set," he said.
So the one thing Gray knew when he arrived at UAH was that he wanted to choose a major that would allow him to keep building. And he figured that would be mechanical engineering. "I always thought it was the most hands-on form of engineering," he said.
But after he'd been here a year or so, he started to wonder if he picked the wrong major. "I thought engineers built stuff, but they don't really build stuff," he said. So while he was deciding what he'd do next, he enrolled in Theater Appreciation, an entry-level class taught by Assistant Professor David Harwell.
It ended up being a perfect fit. "During the class you have to do so many hours of going to see theater productions or working crew calls and building sets," he said. "And I thought it was just awesome - working crew calls is, like, my thing! I can do that!"
So when that class ended, Gray signed up for Elements of Theater Production, where he learned lighting, set design, and costume design, ultimately becoming the technical director of the Theatre Department's 2013 production of Urinetown.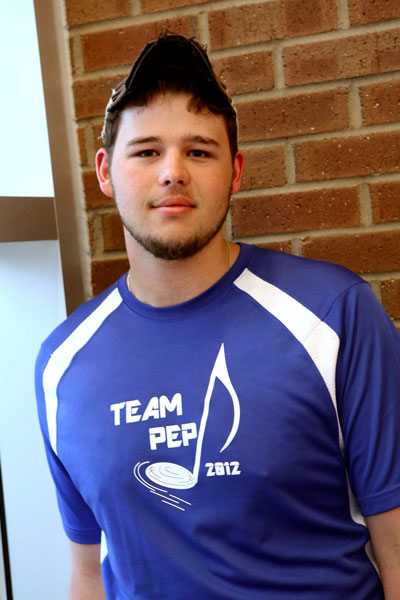 Michael Mercier | UAH
Tom Gray, who is currently majoring in mechanical engineering, will switch to a degree in communication arts with a minor in theater. He is working at the Santa Fe Opera House this summer as a journeyman carpenter.
A Fork in the Road
It was during rehearsals for Urinetown that Harwell suggested Gray attend the Southeaster Theatre Conference, held this past March in Louisville, KY. "They have classes going on for actors and techs and then they have a huge job fair there," said Gray. "You go hand out your resume and they'll call you back for interviews during the conference."
Not that Gray thought he had a chance. But, he said, "Dad always said you have to fail at something at least once to figure out how to do it right." And at the very least, he figured it would be good to practice for future conferences.
Even though we don't have a theater major, you learn more about theater at this school if you're willing to put in the extra mile than most colleges are able to teach you.
Tom Gray
UAH Student
Much to his surprise, however, he got callbacks from theater groups all over the country, including the Virginia Shakespeare Festival, the Lyric Theatre of Oklahoma, and the Santa Fe Opera House. And he, in turn, impressed them all.
"The guy from the Virginia Shakespeare Festival asked me about old processes of manufacturing and if I had experience with a lathe. And I was like, 'Of course!'" said Gray. "He said I was the first person he had talked to all week that had experience."
But it was the technical director from the Santa Fe Opera House, Eric Moore, that Gray really blew away at his interview. "He was so impressed that he offered me a job he didn't have listed - the journeyman carpenter position, which is the step above apprentice and below master carpenter," he said.
And it wasn't just for the summer, either. Moore wanted to hire him full time. But Gray, while flattered, didn't hesitate to turn it down. "I said I had to go back to school," he said. "I made a promise to my dad before he died - he said 'You're finishing college,' and I said 'Yes sir.'"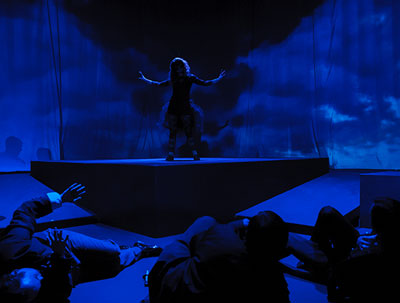 The Tempest, for which Gray was the technical director.
They agreed instead on a two-month stretch that will run from May to July, with the opera house providing Gray with housing and a small travel stipend. "I'll go to meetings and get an assignment and plans for a build, and I'll lay out how I want it done and then just run a crew and do it," he said of his role as a journeyman carpenter.
Just don't ask him which productions he'll be working on. "They're original operas that I probably can't pronounce the names of!" he said with a laugh. "One they wrote for a specific opera singer from Italy, and she's flying all the way out to Santa Fe to perform."
But while Gray may have been shocked about landing the gig, Harwell certainly wasn't. "Tom is one of a kind," he said. "He is an incredible fabricator and inventor and the Santa Fe Opera is a perfect place for him to be right now. He'll learn state-of-the-art automation and manufacturing from one of the best companies in the country."
The only downside was breaking the news to his mom. "We talked over dinner and I said, 'This is the best opera house in the country, it's critically acclaimed, and it's a great opportunity,'" said Gray. "It will be hard for her but I think she understands this is what I want to do with my life."
Even so, he struggles to internalize what it means. "I think this is still kind of hitting me. The hand I've been dealt - I'm flabbergasted," he said. "I think if this goes well, it will open up a lot of doors. It's all about who you know and the connections you've made."
A New Direction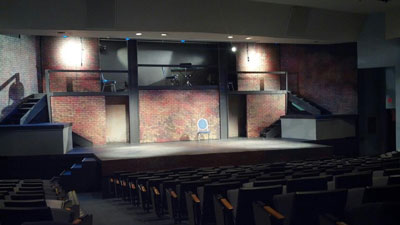 Urinetown, for which Gray was the technical director.
Once he returns from Santa Fe and starts his junior year, Gray said he will begin the process of switching his major. "Unfortunately, we don't have a theater major here at UAH," he said. "But I'm going to switch to a communication arts major with a minor in theater."
Which is good enough for him. "You learn more about theater at this school if you're willing to put in the extra mile than most colleges are able to teach you," he said, crediting dedicated professors like Harwell and Director of Music Technology Johnna Doty.
"They have worked in the industry for so many years and they're so smart - with the limitations they have, they do an amazing job," he said. "They want to teach people and it's such a great experience. If you're willing to learn, they're willing to teach you."
An Exciting Future Awaits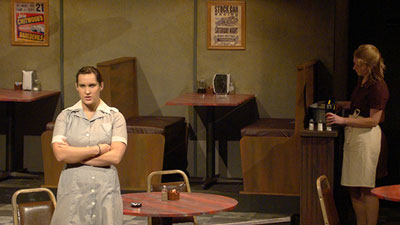 Where the Great Ones Are, for which Gray was a carpenter.
As for whether Gray will end up returning to the Santa Fe Opera House after he graduates, he said he'd have to wait and see. "I've always enjoyed learning new things so I think wherever that takes me, wherever I get to learn something new, that's where I'll go."
Though he does add that he hopes it might one day be Hollywood. "I am one of the biggest Quentin Tarantino fans," he said. "To be able to say you worked on some of the sets that he has showcased in his movies…I really want to just have my name in the credits, way down!"
It's a big dream - but now that he's switching his major, it's also one that might actually come true.
---
You may also be interested in: