UAH professor publishes new pictorial history of Huntsville
HUNTSVILLE, Ala. (April 8, 2013) - Huntsville (Images of America) is the title of the new pictorial recently published by The University of Alabama in Huntsville's (UAH) Dr. John F. Kvach, and the Huntsville Madison/County Public Library.
The book is an inclusive history of the city that has served as the unofficial capital of North Alabama since the 19th century. Kvach, assistant professor of History at the university, enlisted the help of two students in his public history class, and a UAH alumna to create a pictorial history of Huntsville. "This stemmed from a class project with Charity Ethridge and Michelle Hopkins, and included working with the public library's head archivist and UAH alumna Susanna Leberman," he said.
Kvach specializes in nineteenth-century southern history and public history. He also teaches world history, Civil War and Reconstruction, and early American history at UAH. "We weeded out many popular photographs that most people would recognize, and tried to find rare photographs that would expand how people saw their community," Kvach explained. "Although I don't have a favorite photograph in the book, I would say that the street scenes are the best because they show a different Huntsville and allows the reader to see how people dressed and looked in past decades."
All proceeds from the sale of the book go directly to UAH's new public history program and will be used to support student activities such as the UAH Cemetery Stroll, hosted last fall.
The Images of America series is published by Arcadia Publishing (Charleston, South Carolina), and chronicles the history of small towns and downtowns across the country. Each title features more than 200 vintage images, capturing often forgotten bygone times and bringing to life the people, places, and events that defined a community. To view the book, please visit:
http://www.amazon.com/Huntsville-Images-America-John-Kvach/dp/0738598917/ref=sr_1_15?ie=UTF8&qid=1364909690&sr=8- 15&keywords=huntsville+history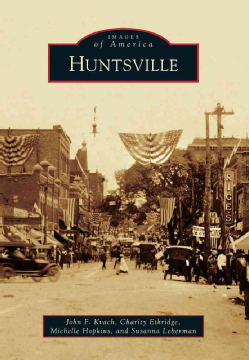 Huntsville (Images of America)
---
You may also be interested in: