UAHuntsville hosts honorary reception for Frances Roberts' Hall of Fame induction
HUNTSVILLE, Ala. (March 4, 2013) -Make progress, not excuses. Those four words, in a nutshell, best describe the professional and personal character of Dr. Frances Cabaniss Roberts a founding faculty member of The University of Alabama in Huntsville (UAH).
Roberts, whose "pioneering spirit" and astute leadership helped to establish UAH as one of the top research institutions in the nation, will be inducted into the Alabama Women's Hall of Fame on March 7 at Judson College in Marion, Ala. UAH will host a reception in Roberts' honor on Thursday, March 14 from 3 p.m., to 5 p.m., at the Louis Salmon Library Art Gallery.
Roberts devoted 30 years (1950-1980) of dedicated service to UAH. She began her association with the university as a part time instructor while she completed her Ph.D. She established the Department of History, serving as its first full-time professor and first chairperson. Roberts also founded and directed the university's Academic Advisement Center from 1972 to 1980, when she became Professor Emeritus.
According to Charles Westbrook, a UAH alumnus (2010 BA Political Science, History), Frances Roberts was a woman ahead of her time. "She began teaching in the 1930s, when career opportunities for women were limited in a male dominated world. That she found work in rural Alabama during the worst years of the Depression, when so many were unemployed reflects how even at a young age she displayed maturity and dedication to her chosen profession."
While her first love was education and her driving force, Roberts was also a master strategist. "I don't think she liked or had the time to be the leader of an organization or group, she was involved in many things simultaneously," said Westbrook.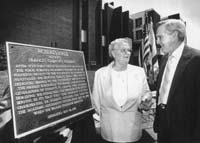 "She certainly never thought she needed an office or title to influence the direction or course of events. She seemed to run on sheer will power plus she had a remarkable knack for selecting people who were very good at what ever job she was selecting them for. Her strength was in her tenacity, she would work tirelessly for a project and she could be formidable," Westbrook said. "You won't find many people who found Roberts warm or endearing but she earned a great deal of respect from people she worked with. She was great at directing from the wings."
Westbrook began researching Roberts' for a 2008 history class. He wrote two additional papers on Roberts for history assignments. Despite her tenacious spirit of getting things done barring any excuses, there were some things Roberts did not do, according to Westbrook. "She didn't cook, clean (housework), or type," he said. "Above all," Westbrook said, "she valued simplicity. Friends remember her wearing light-colored pantsuits for everyday wear and dark-colored ones for more formal occasions."
Westbrook and Dr. Johanna N. Shields (UAH Professor Emerita of History) first nominated Roberts for inclusion into the Alabama Women's Hall of Fame in August 2010. Disappointed Roberts was not accepted "in the hall," Westbrook and Shields waited a year, and in early 2012 they submitted a nominating package of approximately 80 pages of Roberts' accomplishments to the selection committee. Westbrook received word last October that Roberts had been selected for the honor.
"Frances would be pleased about this honor," said Shields. "I took her to Judson College for the induction of Maria Howard Weeden (artist and poet), whom Frances had helped nominate. She appreciated all of the respect and honors people gave her."
Roberts hired Shields to teach at UAH in the spring of 1967. Shortly before offering Shields a teaching post, Roberts hired John and Carolyn White to join the university's faculty.
"We had a young faculty and she was a sort of mother hen. But once John was named chair of the History Department, Frances stepped aside and let him manage. She led us through advice - although sometimes her advice felt like an order, and many other people came to her for advice," said Shields. "Frances had special talents for helping students and people in general. She was very tolerant and understanding when people were in need of sympathy or help, and Frances was a wonderful listener. But she had less patience with people who were self-centered. She quickly saw through pretense and that definitely got under the skins of some people."
Upon her passing in November 2000, Roberts left the care of her books, papers and other artifacts to Shields. "I don't recall whether she asked or told me to take care of them, but she did one or the other in an informal way," said Shields.
In typical Roberts' fashion of having the final say, she also named Shields as trustee of the balance of her estate (with exception to the family home) for the purpose of perpetuating scholarships. In addition, two endowed scholarships were established in Roberts' name through the university's Office of Development.
Although Shields didn't know the specific contents of Roberts' will, the directive naming her as a trustee was not at all surprising. "I can assure you she expected that I would do exactly as she wanted. I am positive she would be pleased to know that her things are housed at the UAH library, where they are protected and well organized and can be useful to many people."
Besides enhancing educational opportunities in the state, the other cause close to Roberts' heart was her personal "mission of protecting Alabama's material past" according to Shields.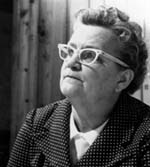 Roberts played a role in many organizations and various historic programs locally and statewide. "She convinced Huntsville's city fathers that it was in the town's self-interest, economically, to set aside historic districts and to establish strict standards for their preservation of authentically historic architecture," Shields said. "Frances fought like a tiger to protect those standards, sometimes to the point of offending investors and homeowners who wanted to 'improve' upon the forms of the past. She was not opposed to change - just to mindless change for the sake of change. She was proud of the city of Huntsville …. proud of its progressive posture and its willingness to preserve the past."
Roberts was employed in the Huntsville Public School System from 1937 through 1952. She taught UAH's first history courses at Butler High School, before the university was established.
Her many civic and community projects include working with nationally known architect Harvie Jones in guiding the architectural and historical surveys and restorations of Huntsville's Twickenham and Old Town Historic Districts. And, she also created the rules that regulate construction and renovation in both historic districts. Additionally, Roberts worked tirelessly for the establishment of the Alabama Constitution Village, Weeden House Museum and the Burritt Mountain Museum and Park. She also played a significant role in organizing and presiding over the Huntsville Historical Society.
The UAH Humanities Building was renamed in honor of Dr. Frances C. Roberts on May 14, 1988.
---
You may also be interested in: