UAHuntsville student's love of LEGO's® leads to career as aerospace engineer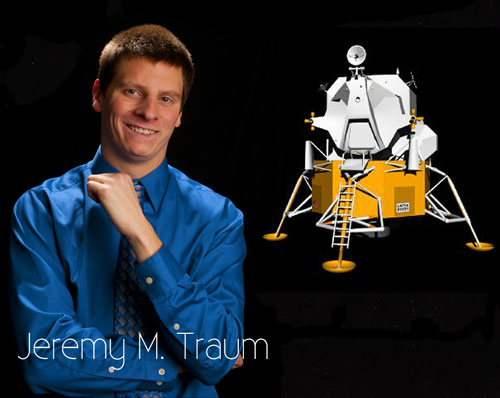 HUNTSVILLE, Ala. (December 10, 2012) — For University of Alabama in Huntsville (UAHuntsville) student Jeremy M. Traum, his love of aerospace engineering began at the age of 10 with a set of LEGO® bricks he pretended was a spaceship that would fly missions to Mars.

Traum, who graduates from UAHuntsville on Saturday, December 15, later learned "rocket scientists" were called aerospace engineers, and he did his best to ensure that his high school in Winnebago, Ill., prepared him to attend engineering school.

Traum learned about UAHuntsville from a family friend, who discovered a newspaper article about the university's future robotics program. While he held an interest in robotics, Traum's "true passion" was in aerospace engineering.

"When I found out about the aerospace program and the scholarship opportunities available at UAHuntsville, I scheduled a campus visit to come check it out," Traum said. "I immediately fell in love with UAHuntsville while visiting, and when I learned it was about $8,000 cheaper to go to UAHuntsville than stay in my home state of Illinois, the decision to attend UAHuntsville was a no-brainer."

The academic experience Traum gained at the university has proven to be invaluable. While employed at United Technologies Aerospace Systems (UTAS), Traum has received several compliments on how well he is acquainted with certain subjects learned exclusively at UAHuntsville.

He credits his mechanical and aerospace engineering (MAE) professors with teaching tough classes, and assigning class work and projects designed to make you learn. "My professors made sure you knew your stuff in order to get an 'A,' which has paid off in my work at UTAS several times over."

Traum worked for a while on the UAHuntsville Google/X-Prize Lunar Rover competition team. The international competition carries $30 million dollars in prizes to be presented to the first team to safely land a robot on the surface of the Moon. In addition, the robot must travel 500 meters over the lunar surface, and send video, images and data back to Earth. There are more than 20 teams competing for the prize. The teams have until December 2015 to get to the Moon, meet objectives and win the prizes.

Traum's work on the project ended because of scheduling conflicts with classes."UAHuntsville's role in the project was to develop a ground based Lunar Rover prototype that would be capable of traversing the lunar surface and sending high definition video and pictures back to Earth. The design team I worked with was great and we took roughly the whole semester to make changes to the design and then validate everything worked mathematically," he said.

Traum has worked on numerous other general design projects while at UAHuntsville. Currently, he and his fellow senior design classmates are working on a NASA project with other MAE students, as well as some high school programs focusing on educating students about science and technology through engineering challenges and experiments.

Additionally Traum mentored the first robotics team, '1625 Winnovation' from his former high school, while working at UTAS during his long-term cooperative education assignment. "I also attended the International Astronautical Congress of 2012 in October to present a paper on the Lunar Rover prototype I helped design for my senior design project."He also actively participates in Tau Beta Pi (a national engineering honor society) and CRU (formerly Campus Crusade for Christ).

Traum has accepted a position with UTAS (in Illinois) designing mechanical test equipment for aircraft components. "I haven't decided what I would like to study, but I am leaning towards a master's degree in aerospace systems, and I plan to start next fall, while working at UTAS."
For more information
Joyce Anderson-Maples (256) 824-2101
maplesj@uah.edu
---
You may also be interested in: