UAHuntsville student uses photo documentary of area homeless to question "truth in art"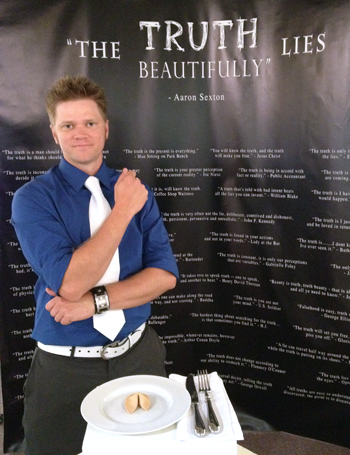 "The foxes have holes, and the birds of the air have nests, but the Son of man has nowhere to lay his head." Matthew 8:20, Luke 9:58
HUNTSVILLE, Ala. (November 28, 2012) — What do Jesus of Nazareth, Halle Berry, David Letterman, Benjamin Franklin and Shania Twain have in common?
They all experienced periods of homelessness in their lives.
Aaron Sexton, a senior art student at The University of Alabama in Huntsville (UAHuntsville), used documentary photography to tell the untold stories of a small population of homeless men and women in the Huntsville area.
For Sexton, the controversial art project was fueled in part by inspiration, and a challenge by UAHuntsville art professor David Stewart's poignant question: "Can truth be found in art?"
"This theory really perplexed me and I searched and searched for the truth in art, without much success. Finally, I turned to my own work and it occurred to me the truth could be captured with photography."
Thinking he would have easier access to photographing individuals and collecting personal histories outside of Huntsville, Sexton headed to his hometown of New Orleans. But, he soon realized he was not as detached from the issue of homelessness as he thought.
Shortly after arriving in New Orleans, Sexton captured a middle aged man dumpster diving for chicken bones and hiding them in the pouch of his hooded sweatshirt. "A few moments later we made eye contact. I could see this desperate attempt to hold on to whatever sense of pride he had left," Sexton said.
"Right away, I experienced a moral dilemma. This man obliviously did not want anyone to see him in this condition, and here I was taking photos possibly for the world to see," Sexton said. "I left New Orleans without a single frame. The difficulty of my vision had just presented itself."
After returning to classes at UAHuntsville, Sexton was still questioning whether truth in art was even possible. But it was a guest instructor — ironically, a documentary photographer who provided Sexton with the missing link he needed to complete his senior project.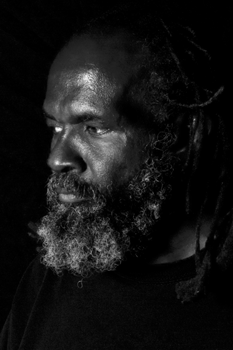 The instructor told Sexton that in order for his project to succeed, form and content would have to collaborate. Essentially, it would be necessary for Sexton to build a relationship with his subjects …. earn their trust and then he would see the truth in art.
Sexton bonded with displaced members in the Huntsville community by first working with Fran Fluhler of Manna House.
"There was no question that in order to achieve my vision for the project "The Truth Lies Beautifully," I was going to have to put myself in some potentially dangerous environments. The path eventually led me to the Manna House where I met the director, Fran Fluhler," he explained.
"Fran welcomed my vision with such great enthusiasm and provided me with a safe place, off the streets to conduct my research and develop relationships with the homeless community," Sexton said. "Her involvement contributed greatly towards the success of this project. In addition, the people of the Manna House touched my heart with their support and encouragement. I am extremely grateful for having worked with such a wonderful group of people."
The close association Sexton experienced documenting the lives of people in Huntsville's homeless community strongly impacted his outlook on life. "The people I met were very friendly and grateful despite having lived such hard lives. My interaction with them gave me a clear prospective of what is truly important in life."
While working on "The Truth Lies Beautifully," Sexton became close to several displaced individuals, including Willy, Patrick and Jodi.
"Willy, a mathematician, earned a Ph.D., in mathematics. Once a university professor, Willy lives on the streets of Huntsville and told me that he doesn't know the truth anymore," Sexton said. "Willy's story is similar to that of the main character in the 1998 film "π" (Pi). The movie chronicles the life of a genius mathematician whose obsessive quest for the understanding of higher learning leads to self-destructive behavior. Sexton noted that the film warns mathematicians of the dangers of the higher understanding of mathematics. "Higher understanding ventures could leave you without the ability to understand even the simplest things — ever again."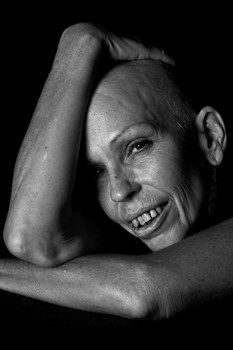 Sexton met Patrick under a bridge near downtown Huntsville. Patrick has a teardrop tattoo. A teardrop tattoo usually means the wearer has killed someone. Sexton said Patrick's truth is he misses his children. "I later learned that Patrick was involved in a horrific car accident that resulted in the death of his wife and children. The teardrop tattoo symbolizes the deaths of Patrick's family members. Unable to forgive himself for the accident, Patrick lives on the streets."
Jodie's life began on the streets hitchhiking at the tender age of 10. Before the age of 20, she was a prostitute addicted to crack cocaine. Now 54- years old, she has three years of consistent sobriety behind her. She told Sexton that this is the first time that she has ever known a relationship with her daughter and granddaughter. Although recently diagnosed with four different types of cancer, Jodie said," I don't think I have ever known life to be so beautiful as I do now. I am so grateful. I thank God for giving me this chance everyday."
"Aaron has always had a good understanding of technique. His background in film and lighting gave him a great start in our program," said José A. Betancourt, associate professor of Art and Art History at UAHuntsville. "My work with Aaron was to try to help find a concept or more meaningful theme and to do it while developing his own personal style of 'seeing'. Aaron's senior project was the culmination of this research," Betancourt said.
Sexton completed "The Truth Lies Beautifully" earlier this year and it exhibited in UAHuntsville's Louis Salmon Library Art Gallery in September.
Sexton graduates on Saturday, December 15, with a Bachelor's degree in studio art, a concentration in graphic design and a minor in marketing. Future academic plans may include a graduate program at UAHuntsville.
"I certainly like the idea of holding a Ph.D., and coming back towards the end of my photography and filmmaking career to teach the next generation of creatives with inspiration and instruction gained from my experiences, as a professional."
In 2003, Sexton graduated from Full Sail University in Winter Park, Florida with a degree in film and video production. Sexton plans to develop "The Truth Lies Beautifully" into a feature documentary film.
For more information
Joyce Anderson-Maples (256) 824-2101
maplesj@uah.edu
---
You may also be interested in: