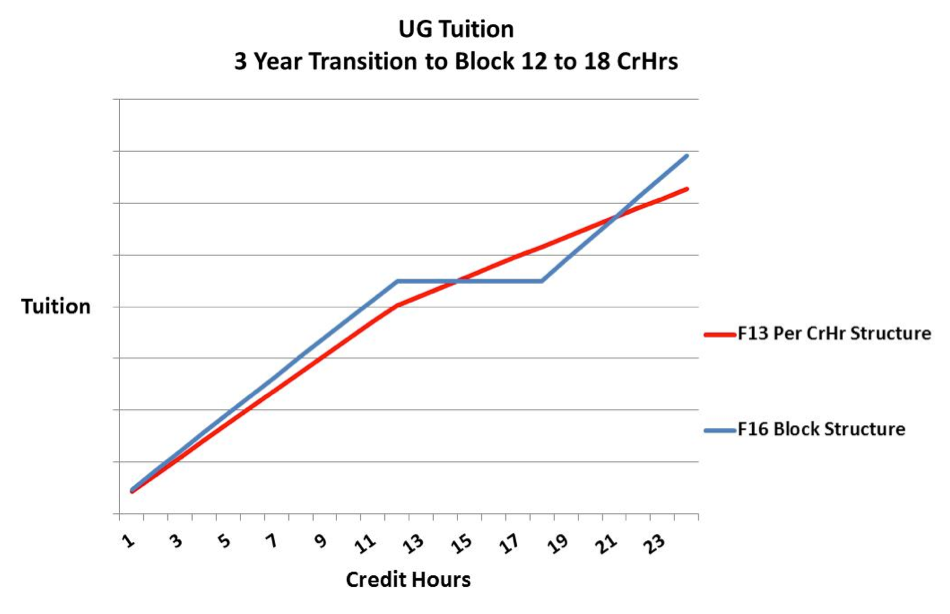 HUNTSVILLE, Ala. (March 17, 2014) – This past week, The University of Alabama in Huntsville (UAH) announced its decision to transition to block tuition beginning in the fall of 2014. The new structure, which will be rolled out over a three-year period for undergraduates, allows students to pay a flat rate per semester up to a limited number of hours instead of paying by the credit hour.
"We have devised a plan to restructure our tuition pricing that will be financially advantageous for students to carry an increased class load," said UAH President Robert Altenkirch in a recent statement to AL.com. "The result can be a faster path to graduate, reduced costs, and an improved graduation rate for UAH students."
During the course of the rollout, the per-credit-hour tuition rate between 12 and 18 hours will decrease for two years, ultimately reaching zero in the third year. For graduate students, the block structure will be implemented in its entirety this fall, making the per-credit-hour tuition rate between 9 and 15 hours zero and credit hours beyond 15 charged at a per-credit-hour rate.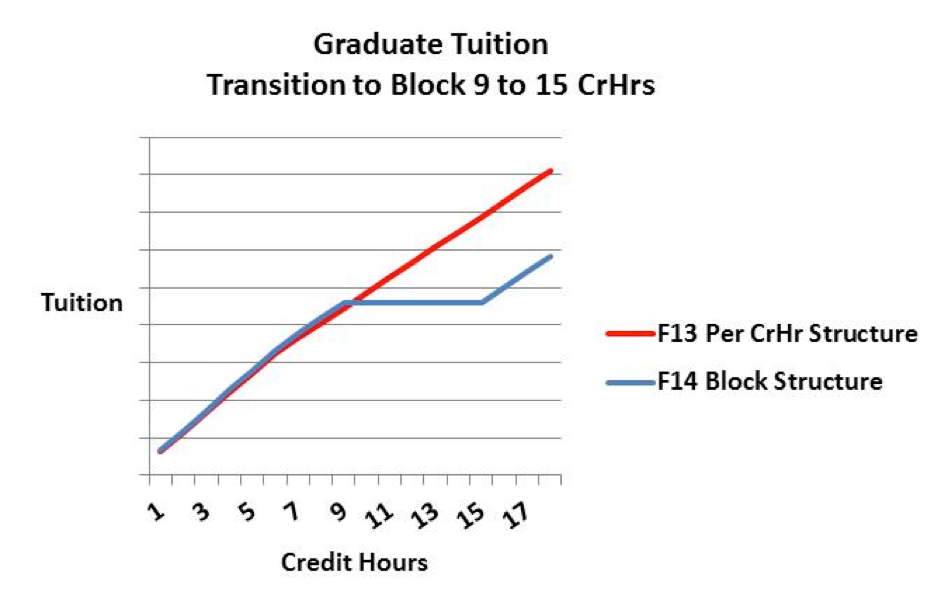 "From a recruitment standpoint, this is brilliant," says Nandish Dayal, president of UAH's Student Government Association (SGA). "If you're making plans for your future college education and you want to go to a tier one research institute with a Carnegie classification – and you want to do it affordably – then block tuition is perfect for you."
Initially approached by the administration when it was considering the transition, Dayal says the idea appealed to him on two fronts. "For me personally, I'm looking at going to graduate school here in about a year," says the nursing major. "This structure gives me the opportunity to take as many classes as I can as a graduate at a lower price point."
And as a representative of UAH's student body, he continues, "the SGA works hard to tackle higher education funding issues, but there are many things that are out of our and the administration's control." As a result, he says, "this feels like a win for the whole team."
Ryan Gott, a freshman majoring in aerospace engineering, certainly thinks so. He believes the new structure is ideal for students like himself, who are required to take a heavy course load due to their chosen area of study.
This feels like a win for the whole team.
Nandish Dayal
UAH nursing student and SGA President
"Because they can't pay for the amount of hours they need, engineers oftentimes take five years instead of four to graduate," says Gott. "But if they're able to take up to 18 hours for the price of 12, they'll be much more inclined to do so to stay on track and graduate on time."
And less tuition costs means more money for other, extracurricular pursuits that help enrich students' lives. "I have a lot of friends whose parents are cutting them off from activities on campus because they can't pay for them," says junior biology major Haley Davis, "so it's great to have a program where they can save money on tuition to afford those things."
Of course, with any changes of this magnitude, there are sure to be questions. So Dayal encourages anyone with concerns to meet with their SGA representative. "We've got three years to phase it in," he says, "so if we need to make adjustments, then that's something we would want to know and share with the administration."
---
You may also be interested in: