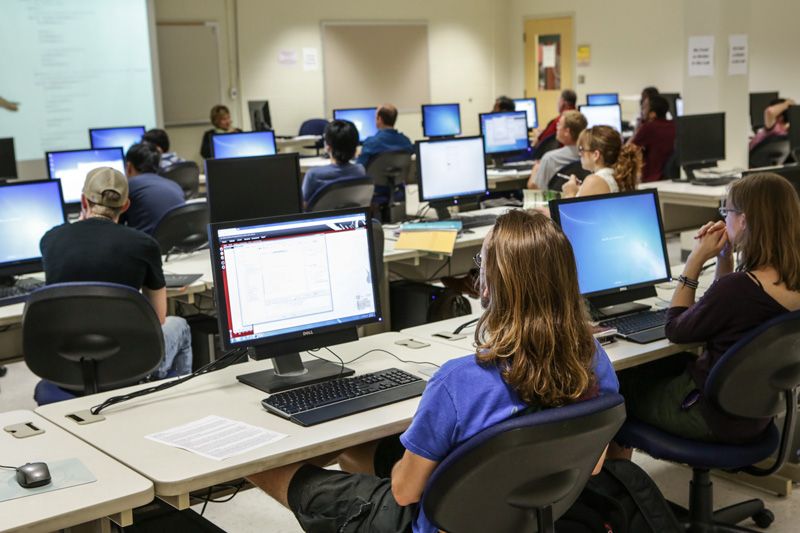 HUNTSVILLE, Ala. (Jan. 13, 2014) - The University of Alabama in Huntsville (UAH) placed 21st on U.S. News & World Report's 2014 ranking of Best Online Graduate Computer Information Technology (CIT) Programs.
"Computer Information Technology is a broad area and we are honored to be included among the best universities in the United States," says Dr. David Berkowitz, dean of UAH's School of Graduate Studies. "We have a proud tradition of being a technology-based campus, and we are pleased to recognized as a leader as we continue to build on that tradition by providing value to our students and the community."
A large portion of the university's CIT curriculum falls under the purview of the College of Engineering, which offers classes not only in engineering management and systems engineering, but also in other emerging areas in the fields of computer engineering, civil engineering, and aerospace systems engineering.
Says Dr. Shankar Mahalingam, dean of UAH's College of Engineering, "we are pleased with the recognition as we try to continue expanding our distance learning opportunities for more graduate students."
The rankings were based on four factors, according to U.S. News:
Student engagement (30%), which includes graduation rate, best practices, class size, one-year retention rates, and time to degree deadline;
Faculty credentials and training (25%), which includes Ph.D. faculty, tenured faculty, financed training, hours of faculty training, continuing faculty training, and peer review;
Peer reputation (15%);
Student services and technology (20%), which includes student indebtedness, technologies accessible to students, and services available to students;
Admissions selectivity (10%), which includes GPA scores, GRE math scores, acceptance rate, employee sponsorship, experience, and letters of recommendation.
---
You may also be interested in: