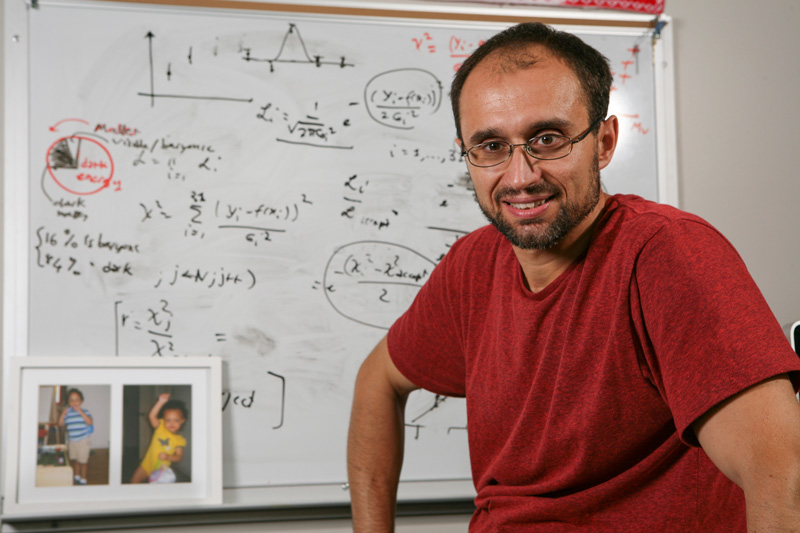 HUNTSVILLE, Ala. (Dec. 12, 2013) - It's a conundrum that many non-traditional students face: how to work a full-time job and earn a degree when the majority of college courses are taught during the day. But things are about to get a lot more manageable for those in need of General Physics with Calculus I (PH111).
Starting next semester, PH111 at The University of Alabama in Huntsville (UAH) will be offered online in addition to in the classroom. The lectures, which will be prerecorded, will be available via ANGEL, UAH's official Learning Management System, and accessible at the student's convenience.
The initiative is the brainchild of Dr. Massimiliano Bonamente, associate professor of physics at UAH. "I hear from so many non-traditional students that they can't register for PH111 because it's offered during the day," he says. "So for those students who can't come to campus, now we can go to them!"
The curriculum for the online class, he continues, will be "a mirror image" of that used in the classroom. "The method of delivery will be different from the traditional lecture, but the content will be the same," he says. "And homework is already assigned online currently, so there will be no difference there."
Even better, the online course is not limited to university students. High-achieving high schools students can also take PH111 through UAH's dual enrollment program.
"Dual enrollment allows gifted students to be concurrently enrolled and receive both high school and college credit for the same course," says Carey Snowden, outreach coordinator at UAH's College of Science. "High school students who are eligible can contact the Office of Admissions for more information about dual enrollment."
Of course, all students - be they non-traditional or high school - wishing to register must have completed the calculus pre-requisite. And they must live close enough to UAH to attend PH111's lab co-requisite in person. But as Dr. Bonamente points out, "there are four lab sections offered in the evenings, so there is flexibility there."
Dr. John Fix, dean of the College of Science, is an enthusiastic backer of the online approach. "Computer science has offered distance learning for years as part of their master's program, but this is the first class offered at the undergraduate level," he says, adding that recent technological advances have made it easier than ever to offer online courses.
"Two or three years ago this would have been a much more challenging task because we would have needed videographers on hand to record each lecture," he continues. "But now it can be done through the 'smart classrooms' being built around campus."
Already outfitted with video and audio capture, these classrooms allow professors to record not just lectures with ease, but also real-time questions or discussions with the students. Dr. Bonamente says he was able to test their efficacy himself for the first time last semester.
"There was one class I knew I couldn't make, so I recorded my lecture the night before and gave the system a test drive," he recalls. "I think it worked out because attendance was the same and performance in the classroom was comparable to previous semesters."
And should next semester's online PH111 course yield the same level of success, Dr. Bonamente says he hopes to expand it with an online version of General Physics with Calculus II (PH112) come the fall of 2014.
"There are students who can only get their degree because the classes they need are offered online, so this is the first step in a direction that will allow us to keep pace with our competitors," he says. "I can see many classes at UAH from here on out having an online component."
---
You may also be interested in: