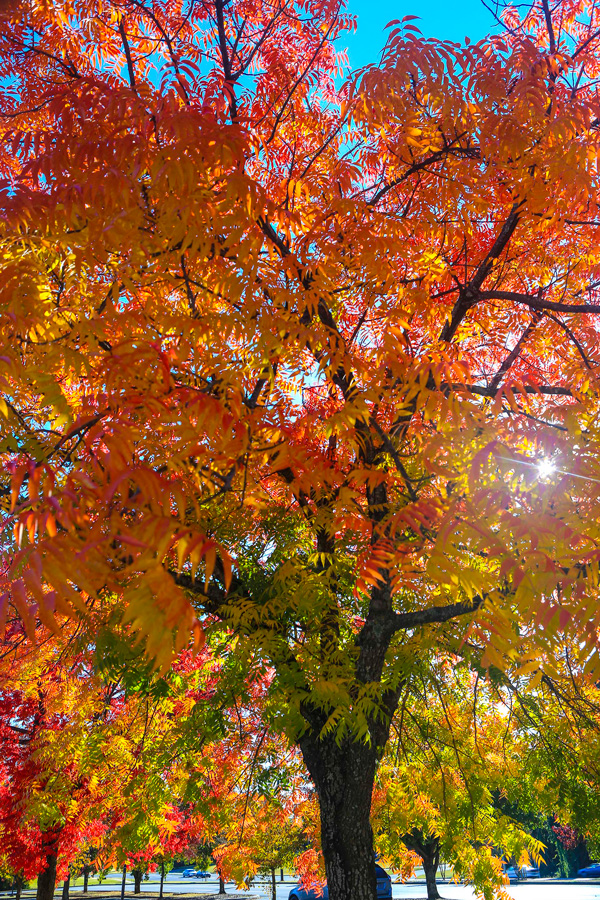 HUNTSVILLE, Ala. (Dec. 5, 2013) - When the temperature fell to more than −20° F during a harsh winter storm in 1990, Cave Hill Cemetery and Arboretum in Louisville, Ky., lost its only Japanese Raisin Tree. Yet today, a descendant from that very tree stands in its place thanks to Robert Redmon, Director of Grounds Management at The University of Alabama in Huntsville (UAH).
Redmon began his career at UAH in the mid-1980s, when the campus was dominated by about 40 species of trees, predominantly Loblolly Pines and hardwoods. But while others might have been content to maintain the status quo, Redmon envisioned a far more diverse urban forest that would increase the campus' canopy coverage.
"It's easy to get into the habit of growing the same trees and shrubs over an entire region, as most commercial nurseries grow much of the same material," he says. "But I saw that there was an opportunity to introduce a wide palette of plant material that could be successful in this area - and we live in a unique area of the country that can allow that to happen."
The only problem was availability. "It's a catch-22," says Redmon. "If landscape professionals, urban foresters, and homeowners don't know about a certain plant, then they can't provide a demand for it and the grower isn't going to grow it."
On the other hand, he continues, "if the grower doesn't grow it, then there will never be an opportunity to use it and no one will ever know to ask for it!" Thus, by introducing new species to the region, Redmon knew he could not only merge this gap, but also provide an educational resource for everyone.
So he reached out to "mom-and-pop operations" across the country to obtain the varying species he hoped to plant on campus. These included, among many others, Cave Hill Cemetery and Arboretum, home of the aforementioned Japanese Raisin Tree seeds, and Shadow Nursery in Winchester, Tenn., one of the few growers of more diverse finished landscape material.
He also purchased 6- to 8-inch seedling trees from as far away as Oregon, in addition to gathering seeds from older hospital grounds, cemeteries, and other sites stretching from upstate New York to the Deep South. "It was just a question of keeping my eyes open wherever I went, to look for the different or unusual," he says.
By 1992, Redmon had amassed a collection of grafts, seedlings, and cuttings from hundreds of species. But none could be planted until they were of sufficient size, at least not on a busy college campus where the foot-traffic of thousands of students and the use of lawnmowers threatened their very survival.
What he needed instead was a secure place where the seedlings could mature in safety into sturdy young trees. So with the help of a student volunteer, Redmon used donated materials to build a nursery with a drip irrigation system behind the Physical Plant Building on campus.
After that, the only danger to the young trees was Redmon himself! "Believe me," he says with a laugh, "you could have a graveyard out here - a 'who's who' - of plants I've killed over the years. Many trees were a try-and-fail."
It was just a question of keeping my eyes open wherever I went, to look for the different or unusual.
Robert Redmon
Director of Grounds Management at UAH
Not that it was entirely his fault. Many of the species he'd collected were non-native to the region and thus unfamiliar with the climate. "They just couldn't make it here because of our summer heat and humidity," he says. "It was literally having to see if it could even survive first."
And even if they survived, he continues, there was no guarantee they would thrive. "There is a huge difference going from soil in a container with regular water to clay soil after planting and making it on your own," he says.
Fortunately, however, Redmon was in no hurry. "No one will ever know if a certain tree will actually grow here unless they try it," he says. "So what better place than a university to educate ourselves by trying to grow trees and plants in this region that many have never seen or heard of?"
It was an approach steeped in patience - and one that ultimately paid off. More than a quarter-century later, and thanks directly to Redmon's efforts, the UAH campus is now home to more than 300 species of trees and is well known in the Huntsville community and the surrounding region for its plant diversity.
"A number of people have told me over the years that they will ask local retail nurseries about a certain tree, only to be told they can probably find it on the UAH campus and to contact me," says Redmon, adding that "people know who we are" in the plant business.
And soon his efforts will receive more widespread recognition. Plans are in the works for UAH to be certified by the National Arbor Foundation as a Tree Campus USA, meaning that it meets all criteria for excellence in campus tree management.
"It's a great honor, and I think UAH deserves it," says Redmon. But for him, the return on his investment came far earlier, when he was able to help Cave Hill Cemetery and Arboretum replace their beloved Japanese Raisin Tree.
"Now that," he says with a smile, "is something I'm proud of. It's always good to give back, and good to leave a place better than you found it."
---
You may also be interested in: