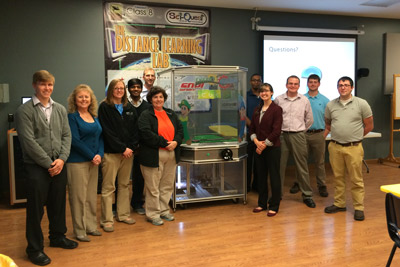 HUNTSVILLE , Ala. (Nov. 6, 2013) - A new solar-focused alternative energy exhibit built by undergraduate design students at The University of Alabama in Huntsville (UAH) has been unveiled at the Sci-Quest, Hands-on Science Center.
The exhibit was built as a partnership between Sci-Quest, UAH and the Tennessee Valley Chapter of Women in Defense (WID-TVC). It will support the Tennessee Valley Authority (TVA) Energy Station kiosk at Sci-Quest and help to create a new Science Center there. The exhibit helps visitors understand the different forms of alternative energy by adding innovative hands-on exhibits to compliment the information provided by the TVA kiosk.
Dr. Christina Carmen's team of engineering students in the Mechanical and Aerospace Engineering Design Class at UAH is responsible for the conception, design and construction of the solar energy exhibit for its senior design project. The UAH students are Steven Artis, Joseph Kemp, Katy Kolasinski, Ronn Lawrence, John Means, Mitul Patel, Mikhail Privalov and Robby Renz.
The interactive exhibit is called "Energy Racers." It shows how solar and mechanical energy work by using them to power race cars. Visitors will see a model race track with two race cars. One car is powered by solar energy, the other mechanically.
The TVA Energy Station kiosk in which the exhibit is housed is designed to increase the public's awareness of renewable energy and educate users on the various ways that TVA generates and transmits electricity. Visitors learn about alternative power sources such as solar energy, wind power and hydro power through the use of an interactive Earth on a touch screen. Sci-Quest will continue to work with UAH students to provide hands-on exhibits to display other alternative power sources depicted by the TVA kiosk.
The solar energy exhibit is sponsored by WID-TVC as part of its Science, Technology, Engineering and Mathematics (STEM) Initiative to promote public interest in STEM education and careers. Deborah Fraley, director of WID-TVC, worked closely with the UAH seniors to support and sponsor their design. Other sponsors include LSINC, ERC Inc., and 80/20 Inc.
"This team has performed with professionalism and excellence from start to finish. Each member was dedicated to the project and the team dynamics were a prime contributor to the success of the project," said Dr. Carmen. "The team lead was organized, thorough and exceptional at understanding the technical and managerial skills needed to complete the project.
"The team, as well as UAH, is fortunate to have the opportunity to design and develop museum displays for Sci-Quest, as well as work with their outstanding staff," she said. "The opportunity to enable children to learn about and engage in STEM activities was invaluable. The project could not have been completed without the funding provided by Women in Defense and the guidance and support provided by Deborah Fraley."
"Energy Racers" is on display now at Sci-Quest and is part of the permanent exhibits on the Science Center floor. Sci-Quest is open to the public Tuesday through Friday from 9 a.m. to 5 p.m. and Saturday from 9 a.m. to 6 p.m. For more information about Sci-Quest, visit www.sci-quest.org.
---
You may also be interested in: