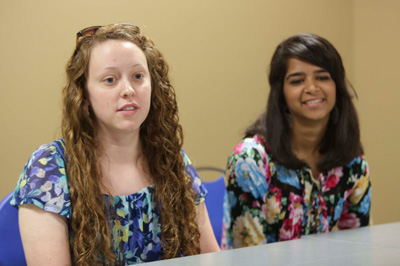 HUNTSVILLE, Ala. (September 16, 2013) - Today, the Lancers are known as the official ambassadors of The University of Alabama in Huntsville (UAH). But back in 1973, when then-president Dr. Ben Graves and the university's executive committee founded the group, it was called "Hosts and Hostesses."
Nevertheless, their primary responsibilities remain the same as they were 40 years ago: to promote a positive image of the university and to support the University Advancement and Development offices by participating in events involving students, alumni, faculty, and friends of UAH.
"It's an elite group of student leaders, and that's what makes it special," says senior and chemistry major Charity Haggenmaker, who serves as the Lancer's vice president. "I think it's a prestigious student position."
Not every student who applies is accepted, after all. They must first have at least two semesters of classes at UAH under their belt, in addition to an undergraduate GPA of 2.5 or a graduate GPA of 3.0. After that, they must pass a rigorous interview process to ensure they are the best candidate for the job.
I think part of becoming a Lancer is that you have a passion for your university.
Michael Henry
UAH Senior and Lancer Secretary
"It's a very competitive process," says Lancers programs officer and senior Ragan Haymon. But one, he continues, that's well worth it. "It's the total experience as far as how to interact with people, be friendly, and learn formal business etiquette."
And even though all of the Lancers receive a small stipend in return for their service, all say they would happily continue on without one. "I think part of becoming a Lancer is that you have a passion for your university," says senior and mechanical engineering major Michael Henry, who serves as the group's secretary.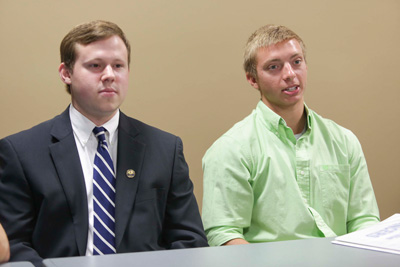 Not to mention perks like greeting the city's mayor, Tommy Battle, or sharing a word with astronaut - and UAH alumna - Dr. Jan Davis. "And anytime President Altenkirch has anything at his house, we host that," says junior and management major Cole Rickles, who is president of the Lancers. "So there's no telling who you'll meet!"
All of which allows for networking at a level that most students can only dream of. "UAH has contacts to businesses and employers in our field," says junior and Lancers public relations officer Tanvi Singh, who is majoring in biology. "So being a Lancer forecasts my future and how I'll interact with people."
Of course, since the Lancers are required to volunteer for 15 hours a semester, time management is of the essence. "It takes a lot," says Henry, who like most other members juggles his Lancers duties with a full academic course load and participation in numerous other extracurricular activities.
But it's all just preparation for the even busier world they will face once they graduate. "It teaches us responsibility," says Rickles. "We can't oversleep and miss an event because we said we were going to be there."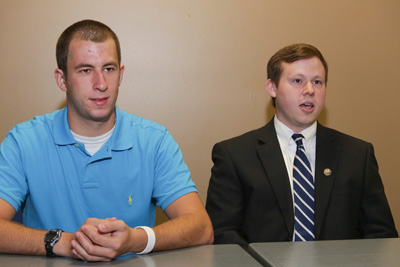 And anyway, Jennifer Brost wouldn't let them. Since volunteering for the position of Lancers staff advisor in June of 2010, she's taken them under her wing and hasn't looked back since. In return, she says, she's learned a thing or two herself about leadership.
"Looking back, volunteering to work with this outstanding group of students was the best thing," says Brost, who is UAH's Assistant Director of Alumni Relations. "They have taught me so much about how to lead the group, and I appreciate their commitment to UAH and learning as much as they can both in and out of class. They make me proud."
Certainly they've come a long way since being the official "hosts and hostesses" of the university. And while this year the Lancers celebrate their 40th anniversary, their steadfast dedication to their role as UAH's ambassadors ensures they'll be celebrating another, more golden milestone in just a few short years.
---
You may also be interested in: