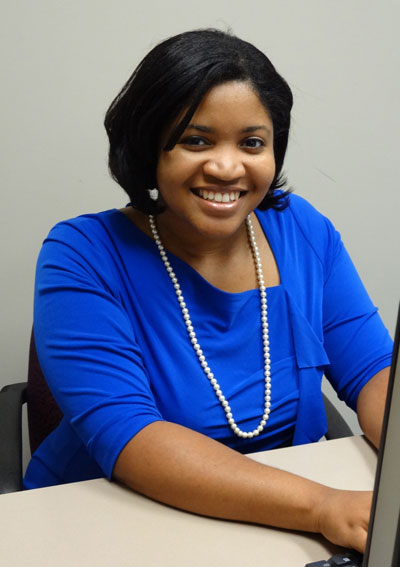 HUNTSVILLE, Ala. (August 21, 2013) - With a significantly higher percentage of student veterans compared to most schools of its size, The University of Alabama in Huntsville (UAH) has made great strides in recent years toward meeting the needs of this nontraditional student group. And one of the most notable of late is UAH's increased participation in the U.S. Department of Veterans Affairs (VA) Yellow Ribbon Program.
Launched in 2009 as part of the Post-9/11 GI Bill, the Yellow Ribbon Program is designed to help veteran students afford tuition at a school where they do not qualify for in-state rates. But to understand how that works, it helps to first understand how the GI Bill works.
That's where UAH's VA Benefits Assistant Crystal Parker comes in. Parker says there are six different benefits, known as chapters. The most common one is Chapter 33, the Post-9/11 GI Bill, which applies to any service members on active duty as of September 10, 2001.
"The Post-9/11 GI Bill pays from 40% to 100% of in-state tuition depending on the service member's length of service," she says. "So if a student veteran is receiving 90% of tuition costs based on 36 months of service, he's responsible for paying the other 10%."
Out-of-state student veterans, however, can only be certified for the in-state equivalent; they must make up the difference between in- and out-of-state tuition themselves. And, in the case of UAH, that can amount to close to $12,300 for student veterans whose GI Bill covers 100% of their in-state tuition.
But not anymore. Under its 2013-2014 agreement with the Yellow Ribbon Program, UAH has agreed to pay 50% of eligible student veterans' out-of-state fees, the maximum amount. And with the VA matching the remaining 50%, the entirety of the difference will now be covered.
"That's really generous of any school, especially in these economic times," says Parker. "It provides a great opportunity for student veterans who are non-residents or graduates to focus on being in school instead of worrying about their financial burden."
And while this is not the first year that UAH has participated in the Yellow Ribbon Program, the university's current 50% match marks a significant increase over last year's - and a 100% increase over the previous year's.
"We care greatly about our veteran student population and are thankful for the sacrifices they have made on our behalf," says UAH President Dr. Robert A. Altenkirch. "We realized that the best way to honor them would be to ensure their access to a high-quality, affordable education through our full participation in the Yellow Ribbon Program."
We realized that the best way to honor [our student veterans] would be to ensure their access to a high-quality, affordable education through our full participation in the Yellow Ribbon Program.
Dr. Robert A. Altenkirch
UAH President
That appreciation hasn't gone unnoticed by the university's veteran population, including Dr. Eric Seemann, an associate professor in the Department of Psychology and UAH's Veterans Network faculty advisor.
"This is a clear showing of support for our student veterans by the Administration," says Dr. Seemann, who is currently on active orders with the National Guard. "It is a sort of 'meet me halfway' program to help student veterans cover any tuition overage that remains after the GI Bill or other source, if any, has paid."
As a result, he continues, "it will keep student loan borrowing to a minimum, optimize our student veterans' opportunities for success-related grants, paid traineeships, and scholarships, and keep high-quality students at UAH who may have gone elsewhere due to a tuition overage they could not afford."
Whether or not the university will continue to match at the same level next year has yet to be determined. "The university's agreement with the VA only lasts for one year," says Parker. "This is our trial year and we're going to see how it works."
But as the daughter of a veteran, and as a UAH employee, she is hopeful that it will. "It's important to help our student veterans because they serve our country - they're brave enough to face dangers that most of us can only imagine," she says. "They protect our freedoms every day, and that's something that we take very seriously."
---
You may also be interested in: