Veteran Network president wants students, faculty to know: "We are here"
HUNTSVILLE, Ala. (June 25, 2013) - The University of Alabama in Huntsville (UAH) is home to a number of nontraditional student groups. But one of the largest is made up of the university's veteran students.
"It's estimated that 5 to 10 percent of UAH students are veterans or family members using veteran benefits," says Dr. Eric Seemann, an associate professor in the Department of Psychology who is currently on active orders with the National Guard. "At some universities, they range in the teens. But ours are in the hundreds because we're in close proximity to a U.S. Army base with services and benefits."
Which is why it might be surprising to learn that the UAH Veteran Network, the university's on-campus support network for veteran students, is still in its infancy.
"It started with Dr. Larry Cantor about three years ago," says Dr. Seemann, referring to UAH's counseling center director. "He got a dozen or so student veterans together to create a support network on campus."
One of those student veterans was Henry Hiller, a Marine who now serves as the Veteran Network's current president. He originally learned of the effort after attending an on-campus career development workshop for veterans. Afterward, he says, "I caught Larry on the sidewalk and was like, why don't we have anything formal? And he said, 'We need a student to push it.'"
Hiller was just that student. Together with Dr. Seemann, who serves as the Veteran Network's faculty advisor, he enlisted a core group of veterans to "hammer something down." Their baseline was a skeleton constitution that Dr. Cantor and a few students had prepared two years previous, using examples from veteran-friendly schools like Mississippi State, Florida State, and the University of Louisville.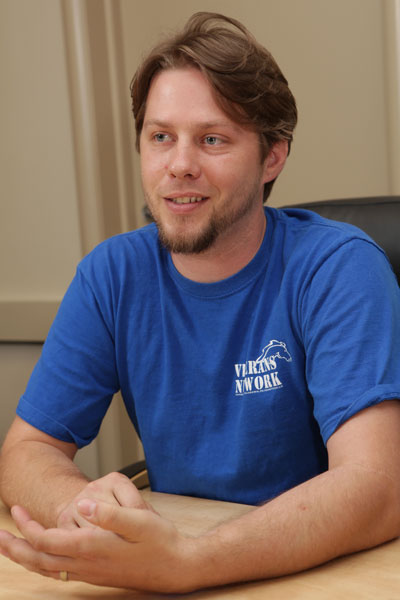 Michael Mercier | UAH
UAH student Henry Hiller, president of the Veteran Network.
"They had drafted the basics of a charter of the student organization as it exists now. The idea was that it would be faculty-guided but student-led," says Dr. Seemann. "Our overall goal was to provide a network that is not only social in nature but also facilitates academic and career development and community service."
To that end, the Veteran Network now hosts a number of veteran-specific career development and community service workshops. They also partner on occasion with Still Serving Veterans, and help veterans with job placement through a program called NEW STEM, or Non-Traditional Emerging Workforce in Science, Technology, Engineering, and Mathematics.
Just because your GI bill is used, doesn't mean your education is over.
Henry Hiller
UAH veteran student and president of the Veteran Network
"We show our student veterans 'This is what we have available.' Just because your GI bill is used, doesn't mean your education is over," says Hiller, about the many opportunities available to veteran students. Moreover, he adds, "we have a job climate here that is conducive to veterans. When they're getting out with secret clearance, they can still utilize it."
But while the Veteran Network is dedicated to supporting veteran students, there's a second, less obvious beneficiary of its services: the university faculty. Both Hiller and Dr. Seemann say that professors have a tendency to lump veteran students in with traditional students, rather than recognizing that some may be struggling with the reacclimation process.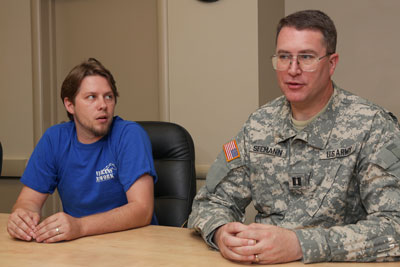 Michael Mercier | UAH
Hiller and Dr. Seemann discuss the creation and growth of the university's Veteran Network.
"This is a hot-button issue for a lot of veterans," says Dr. Seemann. "Here you have someone who has been on active duty, who has achieved a small amount of rank and has earned a degree of authority and respect, and now their professor doesn't trust them to turn their homework in on time?"
Hiller says he himself has experienced just such a lack of empathy. "I had one professor who was like, 'I'm giving you a zero because you didn't do it right'," he says. "But I hadn't been in a scholastic environment in four years!" Instead, he had been serving overseas, first in Okinawa and later on combat duty in Iraq.
Other professors, he continues, "think I'm dumb or overly aggressive once they know I'm a Marine." But, he says, "I'm not overly aggressive. It's just that Marines are the first to raise their hands and say hold on."
And that makes sense, says Dr. Seemann, once you understand the mission of the Marine Corps. "Marines are trained from day one to identify an objective and overtake it," he says. "But what happens when you take that to the classroom? Many instructors or professors don't like to be called out or have their authority challenged. Yet this behavior in most veteran students is not disrespectful; it's the way they've been trained to engage in a problem or something they don't understand."
We really are blessed with a richness of people who want to help.
Dr. Eric Seemann
Associate Professor and Veteran Network faculty advisor
The solution, Dr. Seemann continues, is getting them to understand that veteran students are "not aggressive, they're just assertive." And he hopes to do that with a faculty education program being developed by the Veteran Network and Dean of Students Dr. Regina Hyatt, with the support of Theatre Professor David Harwell.
Also on their side? UAH President Robert Altenkirch. "He has made it very clear he's going to be 100 percent supportive," says Dr. Seemann. "And that's the way it's been with the new administration. He understands the nature of this university owing its life to the Army and NASA."
That hasn't always been the case, however. Dr. Seemann says that back when he was in college, in the late 1980s, there "wasn't much" in the way of support for veteran students. "If you weren't in ROTC, there was nothing for you," he says. "Not that they were doing a bad job, that's just the way it was."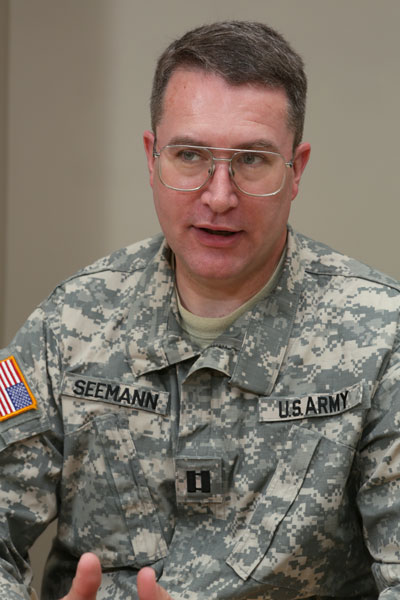 Michael Mercier | UAH
Dr. Eric Seemann, associate professor and faculty advisor to the Veteran Network.
In fact, it wasn't until after the World Trade Center attack on 9/11 that he says "it was no longer the hard push it used to be. People got really interested in providing services to veterans." And today, says Dr. Seemann, "we have a lot of support from the administration, from the faculty, and from other students. We really are blessed with a richness of people who want to help."
Now the only real challenge is making sure the university's veteran students not only know about the support services available to them, but also actually take advantage of them. After all, points out Dr. Seemann, this is a demographic who takes pride in being strong, independent thinkers.
"A lot of veterans will say they are not veterans on a form because they don't want to be bothered," he says. But his message to them? "You didn't do it by yourself on active duty, don't try to do it that way here."
Instead, he urges them to rely on the Veteran Network. "These are people who share your experience, who need your experience, and have information you can use," he says. "By helping others you will help yourself."
***
The UAH Veteran Network comprises student veterans who meet regularly to discuss ideas and concerns and to develop programs and activities for other veteran students. The primary purpose of this network is to provide veterans an opportunity to share their experiences, receive support, and assist one another as they pursue their academic goals. The network also provides an avenue to disperse information to its members and serves as an advocate for veterans on campus. Throughout the academic year, the network sponsors special seminars of topical interest that are designed to meet specific needs of our veterans.
---
You may also be interested in: