Debate teaches students to consider both sides of Chávez legacy
HUNTSVILLE, Ala. (May 1, 2013) - When Anna Alexander asked the baker at her local Publix to decorate a cake with the likeness of Hugo Chávez, things got weird.
"I pulled out the picture and she was like, 'Who is that?' And I said, 'Hugo Chávez.' She just looked at me like I was nuts," said Alexander laughing. "So I started rambling, 'It's for educational purposes!'"
Alexander isn't some Chávez superfan; the cake was for a History of Modern Latin America class that Alexander taught this past semester as a visiting assistant professor at the University of Alabama in Huntsville. And as she does for every class she teaches, Alexander had students in this class engage in a role-playing debate to get them to consider both sides of an issue.
"We were already planning on doing a debate putting Augusto Pinochet on trial, and then Chávez died," she said. "I realized my students didn't know much about him, only what the US media was telling them. So we decided to look at him from all these different angles, people who really adored him to people who really hated him, to show how complicated he was."
Each of Alexander's eleven students was assigned a historical figure, and in a few cases a composite figure, who had interacted with Chávez in the past. They then had three weeks to prepare a 3-4 minute speech, or eulogy, to present at the Hugo Chávez Memorial Service scheduled for class on April 11.
"There was a lot published right after his death because a lot of people went down for his funeral, so the students would come to my office and I'd give them articles to read," said Alexander. "We also talked about their characters and came up with ideas about how everyone should be dressed. It was very hands-on research for the students, especially for a history class."
Finally, the big day arrived. "At first I thought it was going to be very morbid - we had the cake, we had programs, we had Venezuelan funeral music, and we had PowerPoint slides with pictures of Chávez going in the background," said Alexander. "But when the eulogies started, it was quite lively. No one was texting, no one was on Facebook. They were just really interested in the content."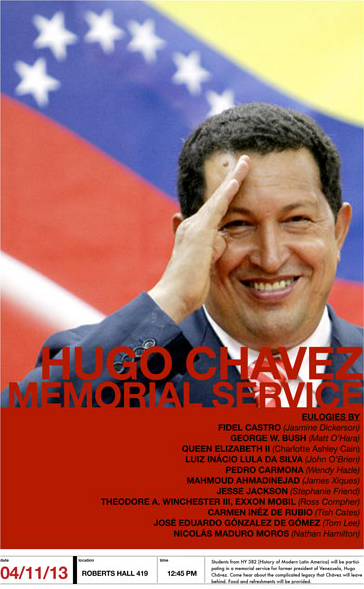 Poster announcing the Huge Chávez Memorial Service held by the History of Modern Latin America class taught by Dr. Anna Alexander.
The eulogies, which can be seen in this video, were given by Jasmine Dickerson as Fidel Castro, Matt O'Hara as George W. Bush, Charlotte Ashley Cain as Queen Elizabeth II, John O'Brien as Luiz Inácio Lula da Silva, Wendy Hazle as Pedro Carmona, James Xiques as Mahmoud Ahmadinejad, Ross Compher as Theodore A. Winchester III (a composite character representing Exxon Mobil), and Nathan Hamilton as Nicolás Maduro Moros. (Stephanie Friend as Jesse Jackson, Tish Cates as Carmen Inéz de Rubio, and Tom Lee as José Eduardo Gónzalez de Gómez were unable to attend due to the day's inclement weather.)
It was very hands-on research for the students, especially for a history class.
Dr. Anna Alexander
Visiting Assistant Professor of History
A panel that included History Department Chair Dr. Andrew Dunar, Assistant History Professor Dr. Kira Robison, and history graduate student Jan Dye judged the presentations, which accounted for 5% of the students' final grade. Four winners were then chosen, each of whom received an additional 2%.
And who were those four victorious eulogizers? Hazle as Carmona, Xiques as Ahmadinejad, O'Brien as Lula da Silva, and O'Hara as Bush.
"I think Carmona and Ahmadinejad were clearly the top two," said Alexander. "It could have been their theatrics. Wendy just let it all go. She ripped up the constitution and threw it at the crowd. She was pacing and stalking - and she had no script. It was like she was a method actress!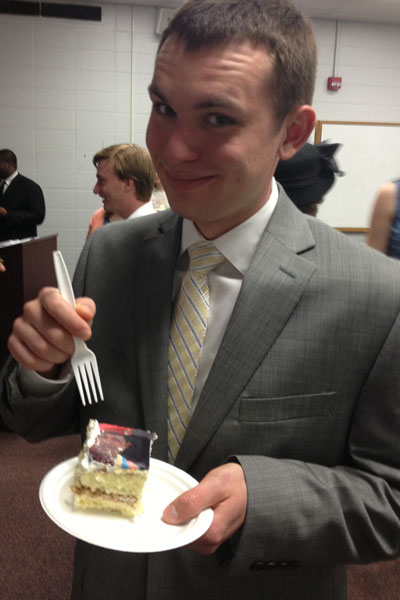 Ross Compher (as Theodore A. Winchester III) eating the Chávez cake.
"And then Ahmadinejad was just spot on, everything about it. His speech was really good, and Ahmadinejad says some interesting things from time to time, so James sifted through all his speeches to find his material. Oh, and then he blamed the US for causing Chávez's cancer. The crowd was just laughing."
Xiques also surprised everyone by dying his normally blond hair black and growing a beard to further resemble Ahmadinejad. "The way he dressed, he wore the same outfit - a suit and open-collared shirt," she said. "And he wouldn't shake my hand because he's not supposed to touch women he doesn't know. He was authentic!"
But while Hazle and Xiques may have brought down the house, ultimately, said Alexander, everyone ended up being a winner. "It was really just a bonding experience for the students in the class. We talked a lot about Chávez in the weeks leading up to the debate, but having to get up there and act and do things outside of their comfort zone was really good for them."
Which, she continued, is precisely the purpose of the debate. "History is so complicated and there's never one right or wrong answer. Every event has people who oppose and support it. I think that students really need to see that and to take on roles they may not even believe. And by having them take on one role and listening to the other ones, they really try to piece it together."
As for what topic she'll tackle for next year's role-playing debate, Alexander said she isn't sure yet. "I am teaching Colonial Latin America, so I'll probably do something about varying interpretations on the independence movements."
Whatever she decides, though, she may just want to bake her own cake this time around.
Photo Credit: Dr. Anna Alexander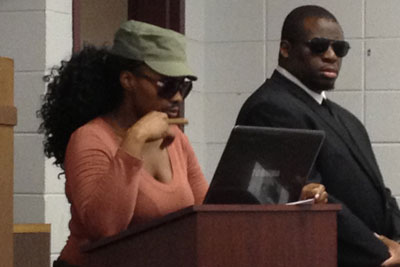 Jasmine Dickerson (with a student posing as a body guard) as Fidel Castro.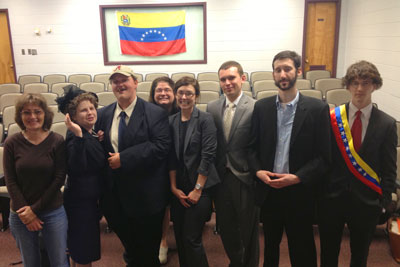 From left to right: Wendy Hazle, Charlotte Ashley Cain, John O'Brien, Jan Dye, Anna Alexander, Ross Compher, James Xiques, and Nathan Hamilton.
James Xiques as Mahmoud Ahmadinejad.
---
You may also be interested in: