$10,000 in scholarship money presented at Boeing New Business Challenge event
HUNTSVILLE, Ala. (April 26, 2013) - A presentation and awards ceremony was held at 2:00 pm on Friday, April 12, for the Boeing New Business Challenge. The winning teams, Cloud 9 and Human Element, walked away with $8,000 and $2,000 respectively in scholarship prizes.
A collaborative effort between Boeing and the College of Business Administration at The University of Alabama in Huntsville, the event represents the commitment of both Boeing and UAH to develop business and communication skills, reward innovation, and instill a sense of entrepreneurial spirit into the community.
The Challenge was broken into two stages. The first was a poster presentation that took place last fall, wherein students were encouraged to prepare a two-page executive summary of their business concept with basic reasoning about their new business opportunity.
That event yielded eleven posters. Students whose work met the screening threshold were then invited to continue to the second stage, which required them to submit a full business plan. Seven teams did so, with assistance and coaching from faculty and mentors, and presented those plans at the April 12 ceremony.
Courtesy Photo
Winning team Cloud 9 receives an $8,000 scholarship check from Boeing executives.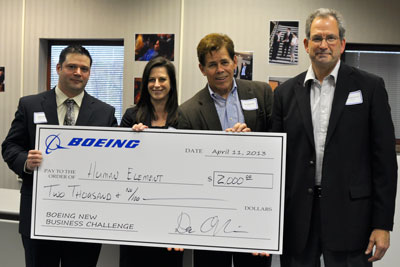 Courtesy Photo
Winning team Human Element receives a $2,000 scholarship check from Boeing executives.
Each team was allowed ten minutes to present their plan before a panel of judges, which comprised both Boeing executives and UAH faculty. Among them were Jack Kachelman, Daniel Olberding, Anissa Weed, Dean of the College of Business Administration Dr. Caron St. John, Finance Professor Dr. Dorla Evans, and Director of the Small Business Development Center Foster Perry.
"The students exceeded our expectations - their plans and presentations were excellent," said Dr. St. John. "We appreciate Boeing's support of the competition, and their funding of scholarships for the two winning teams."
While this was the inaugural year of the Challenge, Boeing executives have decided to repeat the scholarship next year based on the success of the event.
"I am honored to be part of the Boeing New Venture this year," said Anissa Weed, Boeing's Finance Director and Challenge panel member. "This year's Challenge winners presented outstanding business proposals. All participating teams demonstrated creativity in their approach to meeting a specific market or need within the community. I look forward to seeing all of the participants take the next step in making these proposals a reality."
Courtesy Photo
Participants in the 2012-2013 Boeing New Business Challenge.
---
You may also be interested in: