Madison Marshall Awarded to Carnegie Mellon's Matyjaszewski
HUNTSVILLE, Ala. (March 21, 2013) - For his achievements in polymer chemistry, Dr. Kris Matyjaszewski of Carnegie Mellon University received the Madison Marshall award from the North Alabama Section of the American Chemical Society and the Department of Chemistry at The University of Alabama in Huntsville.
The presentation took place at 3 p.m. on Friday, April 5, in room 301 of the Shelby Center for Science & Technology on the UAHuntsville campus, followed by a lecture by Dr. Matyjaszewski. Hors d'oeuvres will be served beginning at 2:30 p.m.
Dr. Matyjaszewski is a professor in the Department of Chemistry at the Mellon College of Science, Carnegie Mellon University, and is an internationally recognized polymer chemist. He is perhaps best known for the discovery of atom radical transfer polymerization (ATRP), a novel method of polymer synthesis that has revolutionized the way macromolecules are made.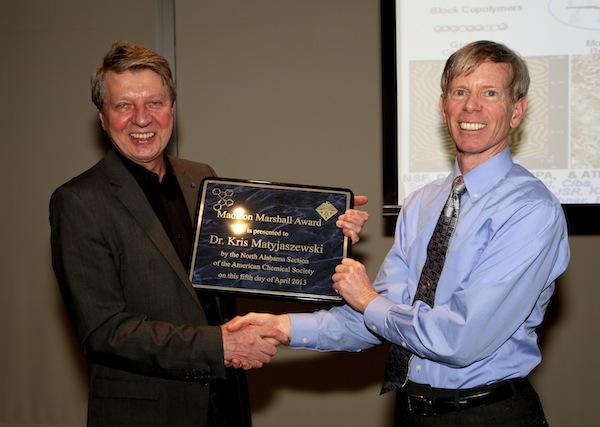 Polymer Chemist Dr. Kris Matyjaszewski gets Madison Marshall Award from Dr. William Stevenson, Secretary of North Alabama ACS.
Dr. Matyjaszewski founded the Matyjaszewski Polymer Group at Carnegie Mellon, which currently consists of 15 graduate students and five postdoctoral fellows, two visiting researchers, two visiting students and one visiting assistant professor. Research in the Matyjaszewski Group has led to the publication of 17 books, 760 peer-review papers, 42 issued U.S. patents, 28 pending U.S. patent applications and 123 original and derived international patents.
He has received numerous awards for his work, including the 2011 Wolf Prize, 2009 Presidential Green Chemistry Challenge Award. He has been honored by the American Chemical Society with their 2011 Hermann F. Mark Award, 2011 Applied Polymer Science Award, 2007 Hermann F. Mark Senior Scholar Award, 2004 Cooperative Research Award in Polymer Science & Engineering, 2002 Polymer Chemistry Award, and the 1995 Carl S. Marvel Creative Polymer Chemistry Award.
He also received the 2012 Dannie-Heineman Prize from Goettingen Academy of Sciences, 2012 Prize from Société Chimique de France, 2011 Japanese Society Polymer Science Award and 2005 UK Macro Medal for outstanding achievements in polymer science, 1995 Humboldt Award for Senior U.S. Scientists and a 1989 Presidential Young Investigator Award from the National Science Foundation.
In 2010, he was elected as Fellow of the American Chemical Society and Fellow of the Polymer Chemistry Division; in 2006, he was elected a member of the U.S. National Academy of Engineering; and in 2012 as a foreign member of the Russian Academy of Sciences and a honorary Fellow of the Chinese Chemical Society.
The Madison Marshall award recognizes an outstanding research chemist who has brought international distinction to him or herself and to the chemical profession.
The award was established in 1963 in memory of Dr. Madison L. Marshall. Dr. Marshall obtained his doctorate at Ohio State University and distinguished himself in the area of colloids research. He was very active in the affairs of the ACS North Alabama section and in chemical education, having served as the chair of the Department of Chemistry at Athens State College.
Dr. Marshall took part in these activities over and above his regular professional duties as group leader in the research department at Chemstand Corp. in Decatur. Dr. Marshall passed away in 1956.
---
You may also be interested in: