Space Shuttle art contest sponsored by AIAA, hosted by UAHuntsville
HUNTSVILLE, Ala. (July 21, 2011) — The University of Alabama in Huntsville (UAHuntsville) recently hosted the Greater Huntsville Section American Institute of Aeronautics and Astronautics (AIAA) Student Space Shuttle Art Contest.
UAHuntsville Art and Art History students assembled the scale Space Shuttle models for entries in the contest. The models are on exhibit at the U. S. Space and Rocket Center.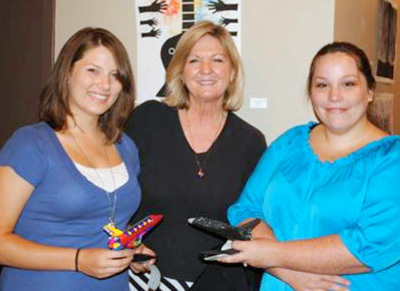 Dr. Deborah Barnhart ('74 BA), C.E.O., and Executive Director of the U.S. Space and Rocket Center with AIAA award recipients Autumn Nelson (left, first place winner), and Beth Broussard (second place recipient). Carol Agola, third place winner was not present.
Contest judges included Deborah Barnhart ('74 BA), C.E.O. and executive director of the U. S. Space and Rocket Center and several AIAA members, John Lassiter, Emmett McDonald and Tom Hancock. UAHuntsville faculty members assisting with the event were Dr. Lillian Joyce, chairperson of the Art and Art History Department, and Keith Jones, associate professor of graphic design and photography.
Cash prizes were given to three UAHuntsville students. The third place award of $100 was given to Carol Agola for her design of detailed gold lettering on all the space shuttle orbiters; the second place award of $150 was presented to Beth Broussard for her space shuttle rendition of an Apollo Crew Module and Lunar Excursion Module; and the first place award of $250 was given to Autumn Nelson, for her space shuttle with artistic bright color patchwork.
For more information
Joyce Anderson-Maples, (256) 824-2101