ACU named 2011 Credit Union of the Year
HUNTSVILLE, ALA. (JULY 26, 2011) — The Alabama Credit Union (ACU) was recently named the "2011 Credit Union of the Year," by the League of Southeastern Credit Unions in the under $500 million category for the state of Alabama. The main branch of the ACU in North Alabama is located on John Wright Drive on the campus of The University of Alabama in Huntsville (UAHuntsville).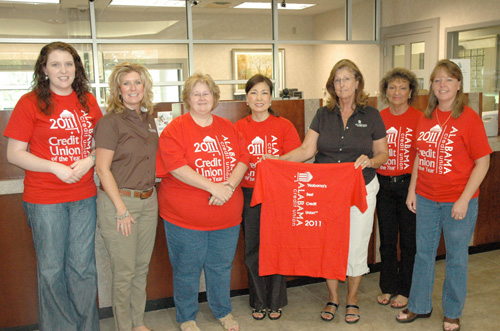 Alabama Credit Union staff from left to right are: Nikki Fleming, accounting department; June Landrum, area branch manager; Debbie McDaniel, new accounts/loan officer; Lee Prysock, teller; Linda McNary, new accounts/teller supervisor; Pat Henson, teller; and Lori Rush, head teller. ACU staff member not pictured Donna Duke, who works in the accounting department.
"The ACU has been serving the UAHuntsville campus for over 30 years! It is a great pleasure to get to know the faculty, staff, and students and be here to assist with their financial needs. UAHuntsville has been a huge part of Alabama Credit Union's success," said June Landrum,Alabama Credit Union Area Branch Manager.
During the past year, existing members have referred a record number of new ACU members to the organization. Existing members have expanded their use of the credit union's services including loans, and certificates of deposit. Additionally, the ACU's signature charity, Secret Meals For Hungry ChildrenSM, has fed more children in the past 12 months than ever before.
The ACU's other North Alabama branches are located in south Huntsville, Decatur and Cullman. A new branch will open soon in Madison on Paramount Drive.
The first branch of the ACU opened in Tuscaloosa in 1970. The credit union opened on the UAHuntsville campus in 1978. The ACU's first location on campus was a small office in Morton Hall.
For more information
Joyce Anderson-Maples
(256) 824-2101