Homeless at 16, millionaire at 26, Andres Lara to lecture at UAHuntville
Huntsville, Ala. (August 22, 2011) - Andres Lara, nationally known speaker, and former president of Inspiration Time Magazine will be the keynote speaker for The University of Alabama in Huntsville's (UAHuntsville) Hispanic Heritage Celebration next month.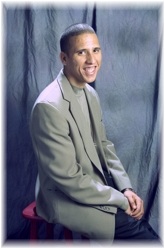 He will give two talks on Thursday, Sept. 29 and both events are free and open to the public. Lara will address UAHuntsville Honors Forum students at 11 a.m., in Frank Franz Hall room 138. At 7:30 p.m., Lara will give the talk "How to Turn Setbacks into Comebacks: Challenging the Status Quo," in the University Center Exhibit Hall.
Also recognized as "The Cuban Guy," Lara is the author of international bestsellers, Inspire the Sleeping Giant Within, How to Stay Motivated During Difficult Times and The Finish Line. He is currently the CEO of A. Success Training, Inc.
But what inspires his audiences the most is that he accomplished all this by age 24. Lara escaped from Cuba at 16, arriving in America penniless and alone. He spoke no English, but managed to survive his worst nightmare - living on the street. Lara shares how he was able to turn his life around and live his dream.
He graduated with honors from Montclair State University with a major in speech communication and a minor in creative writing. Lara's inspirational messages reach millions every week in 33 countries around the globe through his site at http://www.TheCubanGuy.com.
The UAHuntsville offices and departments of Multicultural Affairs, Diversity, International Sponsored Programs, Honors Forum, and Latino Studies and Development Club jointly sponsor Lara's visit.
For more information on Lara's visit, please call the Office of Multicultural Affairs at 256.824.6822 or email crutchk@uah.edu
For more information
Joyce Anderson-Maples
256.824.2101
maplesj@uah.edu