Majoring in Sociology
The College of Liberal Arts awards a Bachelor of Arts degree in Sociology. The degree program includes: (1) general education requirements, (2) major courses, (3) a minor, (4) elective courses in order to reach a minimum of 128 total hours.
The Sociology Department offers students two avenues for pursuing a B.A. in Sociology: The Classic Sociology Major and A Sociology Major with a Specialty Track. Download our new Sociology Tracks Brochure!
The Classic Sociology Major
The Classic Sociology Major is designed to meet the needs of students who have a general interest in the field of sociology and who want the freedom to choose a wider variety of sociology courses unconstrained by the more specific requirements of the tracks. The "Classic" is also a good choice for students considering graduate school in sociology or a related discipline, and those nearing the end of their programs who need to complete their degree quickly.
In addition to the General Education Requirements (GER) for the B.A., students who major in sociology must complete 34 hours of sociology courses. There are four required courses (five for transfer students) and 21 of the 34 credits must be at the 300-level or above.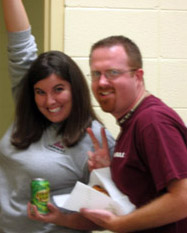 Required Sociology Courses: 13 hours (16 for transfer students)*
SOC 100 Introduction to Sociology
SOC 202 Research Methods
SOC 302 Sociological Theory
SOC 303 Statistics for the Social Sciences (4 hrs)
*Transfer students only: SOC 206 Marriage and Family
Sociology Electives: 21 hours (18 for transfer students)
6 hours in Sociology at any level (3 hours for transfer students)
12 hours in Sociology at level 300 or above
3 hours in Sociology at level 400 or above
Students are strongly encouraged to take SOC 202, 302, and 303 early in their program.
The Sociology Major with a Specialty Track
Our Sociology Tracks are opportunities for students to focus their studies in areas of particular importance or interest to them. Sociology Tracks are good ways for sociology majors to add value and enrichment to their degree programs. The four optional tracks include: community services, environmental social science, law and justice, and global structures. Download the Sociology Tracks Brochure for more information!
Sociology is a popular double major with other fields such as Psychology, History, and Political Science. If you'd like information on double majoring, please speak with an advisor.
Click here for a complete list of course offerings in sociology.
Curriculum requirements ensure familiarity with a broad range of sociological areas, but are flexible enough to allow the student to pursue personal areas of interest. A faculty advisor is available to assist you in selecting courses.