Information for Job Candidates
UAH offers the opportunities of a public research university with a teaching atmosphere like a small private liberal arts college. The department and the College of Liberal Arts maintain a commitment to balance research and teaching, and provide resources for both.
The Department
As a department, we are close but independent. We take pride in making consensus the basis of departmental decisions. Within the department, we work as a team on common expectations for survey classes and for majors. We also value colleagues' varied strengths and respect academic freedom. We support our fellows' research, providing advice and editing help. For several occasions a year, we enjoy departmental get-togethers, but we have no expectations that we must always socialize with one another. Our spirit is friendly and hard-working!
Teaching at UAH
UAH offers an excellent teaching environment. We have a three-three teaching load. Usually each semester a professor teaches two sections of a 100-level history survey and one upper-level or graduate class. In survey classes, enrollments are limited to 40 students, with essay exams and a short research paper required. Upper-level classes usually consist of a dozen to two dozen students. Each professor has a repertoire of four or five upper-level and graduate courses. We have a Masters program and graduate courses normally have eight to ten students. We welcome proposals for new courses.
All classrooms are equipped for multi-media. The department has a book-lined seminar room for small classes. We reside in Roberts Hall, with offices and classrooms on the top floor. Offices are spacious and have floor-to-ceiling windows. The library is near by, and has a large collection of online databases. The Humanities Center funds Library Enhancement Grants. One of our faculty members has received $58,000 of library grants over the last five years, and several recent hires applied for and received grants before arriving on campus.
The history department is also closely linked to many of the College of Liberal Arts' interdisciplinary degree programs. The department is home to the interdisciplinary Classical Studies minor, as well as the active Society for Ancient Languages. One department member is currently serving as director of the Women's Studies program and several courses are cross-listed with the Women's Studies minor. Two faculty members have taken student groups abroad through the Global Studies program, and many of our courses likewise count towards the Global Studies minor. The department is very proud of its new Public History minor, which blends coursework in history with classes in related fields to prepare students for a broad range of history-related careers after graduation. We are also playing a strong role in the development of a new Science, Technology, and Society minor. Faculty also participate in the University's Honors College, with one faculty member soon to teach her second Honors class and several faculty members giving lectures as part of the Honors Lecture Series.
Faculty also have access to many resources to bring distinguished scholars to campus to give public lectures, visit classes, and meet with students, including the Distinguished Speaker Series, the Humanities Center, and interdisciplinary programs such as the Women's Studies program. The Society for Ancient Languages brings a guest scholar to campus every spring as part of Classics Week. As a department, we usually bring two to three guest historians to campus each academic year. We also enjoy a close relationship with the North Alabama chapter of the Archaeological Institute of America, which brings three scholars to campus each semester.
Research and Faculty Development
UAH and the College of Liberal Arts encourage research and faculty development. Financial support for research includes the generous Junior Faculty Distinguished Research Program grants for new faculty, Humanities Center travel grants for faculty of all levels, and College and Humanities Center funds for conferences. The university has a liberal sabbatical program. The college provides generous start-up funds for new faculty to purchase equipment. Two informal college gatherings help faculty grow; RELACS offers a setting for research presentations and Teaching Matters is a forum for sharing ideas about pedagogy. In addition, several faculty in the College have recently created the Humanities Writers' Workshop, an interdisciplinary, collaborative writing group that creates a space for sharing and discussing work-in-progress by UAHuntsville faculty.
Huntsville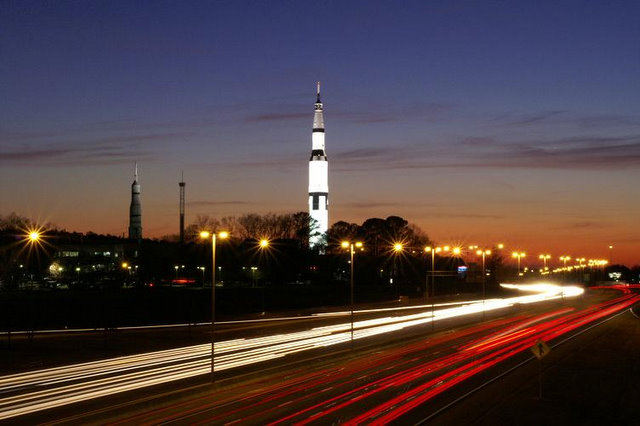 Huntsville and the surrounding region are pleasant and prosperous. The city nestles between the wooded mesas of the Cumberland Plateau and the winding waters of the Tennessee River in North Alabama. Winters are short and mild and snowfall rare. Residents debate whether spring or fall is more wonderful. Summers are hot.
Throughout its history Huntsville has recreated itself several times. It has changed from state capital to cotton village to textile town to "Rocket City" boomtown to its current form as a high-tech city. The metropolitan area has a population of over 417,000.
Huntsville's economy centers on aerospace, military technology, and computer and network companies. In 2005, the HudsonAlpha Institute for Biotechnology was established in Huntsville, adding to this heady high-tech mix. On the outskirts of the city are two high-tech federal facilities, the Army's Redstone Arsenal and NASA's Marshall Space Flight Center. Nearby is Cummings Research Park which is the second largest in the country. Huntsville is also Northern Alabama's retail and medical hub. Forbes Magazine named the city the sixth best place in the country for business! (Photo credit: www.Huntsville-Homes.com All rights reserved.)
Huntsville's population is diverse but is largely well-educated, professional and middle-class. Incomes are high and housing prices are low. Salary.Com named Huntsville the country's best value for salaries and cost of living. Several of its public schools rank among the best in the state and the South.
Cultural attractions include a professional symphony orchestra, several theatre and arts organizations, arts festivals, an amazing arts colony located in an old textile mill, professional sports teams, as well as libraries, museums, and hobbyist groups. Numerous parks dot the city and above it are the hiking trails of Monte Sano State Park. Downtown, in addition to restaurants and museums, has a convention center that includes an arena, concert hall, and playhouse. The area has two world-class golf courses as well as a new civic tennis facility with clay courts. Active clubs exist for cycling, spelunking, running, and swimming. UAH has a new Fitness Center that is free for faculty.
The Huntsville airport has short lines and direct flights to Chicago, Newark, Washington DC, Atlanta, Dallas, and other cities. From Huntsville, travelers enjoy a variety of car excursions. Daytrips are easy to Nashville, Chattanooga, and Birmingham. Weekend getaways to nearby cities include Atlanta and Memphis. The Smoky Mountains and beaches of the Gulf Coast are six hours away, and driving to New Orleans takes 8 hours.
Huntsville has also been recognized in the national media as a great place to live and work:
Links:
We look forward to receiving your application!