In Memory of Frances Cabaniss Roberts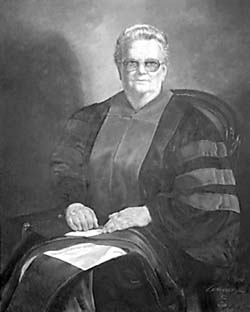 Whenever the history of UAH is discussed in length, the name Frances Roberts will come to mind as a person of guidance and leadership during a time of new beginnings for a new institution. Roberts Hall bears the name of this educational pioneer who led by doing.
Roberts passed away on Nov. 5, 2000 at the age of 83, leaving a legacy of leadership and dedication to UAH.
Roberts taught history in the center's early night classes in West Huntsville High School (later Butler High School and now Stone Middle School), having joined the University of Alabama Extension Center when it began operation in January 1950. In 1955-56, she was the only full-time faculty member.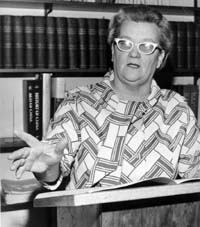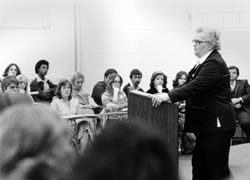 She served as chair of the History Department and also served as director and founder of the Academic Advisement & Information Center.
Roberts once spoke of the early days and the University of Alabama's close scrutiny of the Huntsville operation.
"We were very closely supervised by the campus," Roberts said. "They were very exacting of us. As a result, we came out stronger perhaps than some of the counterparts down in Tuscaloosa.
"They (students) paid us $200 a course at that time," Roberts said. "But somehow it didn't make any difference. We knew what we were about. And so, it was kind of a pioneering spirit."
Those who worked closely with Roberts feel she left many impressions on them.
"What stands out to me is that she stamped the department with a commitment to her high standards.
She refused to believe that students could not make dramatic improvement in their intellectual skills if they made the requisite sacrifices in time and effort. The fact that she refused to accept anything but their very best effort did not alienate most of them, far from it. That she obviously believed in their potential allowed many students to see that beyond a gruff exterior she really cared about them. She was just as tough and caring about her younger colleagues, not sparing criticism but also always ready with advice and support.
Her attitude was far from laissez faire in all aspects of her scholarly and teaching life. One anecdote in particular stays with me. Serving with her on a committee to review dossiers to fill an assistant professor position, I watched her toss aside all dossiers in which there were spelling or grammar errors in the candidate's letter. 'If they were careless in a matter of such importance,' she said, 'how would they do in routine situations?'"
- Dr. Philip Boucher
Distinguished Professor of History
"Dr. Frances Roberts was the heart and soul of the History Department during her tenure as well as the motive factor in maintaining the core curriculum at UAH. She constantly sought to have UAH become a true university by heralding the Liberal Arts as a vital component to the concept of 'university.' Her legacy in that regard shall forever remain vibrant with all of us."
- Dr. Lee Williams, II
Professor of History and Director of the Office of Multicultural Affairs
"UAH, today, should give premiere credit to Prof. of History Roberts for being a superior university in the State of Alabama and a leader in the Southeast... Yesterday, I told a music colleague, 'If Frances Roberts was a musician, she would have played the tuba or double string bass.' She was of fundamental quality in her education beliefs and would have had the same role playing the fundamental/foundation lines in a band or orchestra. Both are important to an institution/ensemble. And, they can make a lot of noise!
From music's start at UAH, she was always supportive of our ensembles and events. The music degree and its quality of programs can be attributed to Dr. Roberts. And in her retirement, she was provided with a softer, individual chair at the top/back of "her" Roberts Recital Hall. She occupied it very often. It was always a pleasure to see her there, a lover of good music and still interested in us, faculty and student musicians..... Requiem aeterna et lux perpetua, Frances."
- Dr. D. Royce Boyer, D.M.A.
Professor of Music Emeritus
"Although the views and methods that Frances Roberts brought to the study of the past were those of her own generation, her life exhibited certain timeless qualities that future historians should strive to emulate.
There was her curiosity about people, her intellectual rigor, her insistence on academic standards, and her love of students. These, along with a deep-rooted tenacity, marked her career from her first years of teaching in Depression-stricken Sumpter County to her later leadership in creating a university in Huntsville. They were especially evident in her quest for the doctorate during the 1950s, at a time when history faculties routinely discriminated against women.
... Her origins, I think, help account for her all-consuming drive to understand the world from which she came. I cannot say whether, deep down, she ever felt that she had succeeded. I do know that with her passing, and that of Harvie Jones, master architect and apostle of preservationism, Huntsville has lost two of its best friends. But their legacy is still around us for all to see."
- Jack D. Ellis
Professor of History
"Those of us who had the privilege to know her admired her for a myriad of reasons. She met her students with optimism, believing that the faculty of UAH could and would inspire students to learn, meet demanding expectations, and become contributing citizens. As a colleague, she expected faculty to work hard, be productive, and tow the line. She believed in upholding high standards for students, faculty, and department. Without her, UAH might have been just another branch campus."
- Sue W. Kirkpatrick, Ph.D.
Dean, College of Liberal Arts
"Dr. Roberts was honored on Saturday, May 14, 1988 with the dedication of Roberts Hall in her honor. The University System Trustees issued this statement concerning the special day:
"Dr. Roberts was one of the founding faculty of the University of Alabama in Huntsville, established the University History Department and was its first full-time history professor. She devoted 29 years of dedicated service to UAH and 18 years to the public schools applying only the highest scholarly standards and inspiring generations of students to expand their academic horizons."