Sigma Tau Delta at UAH
The International English Honor Society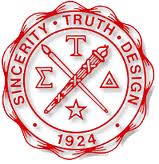 Membership in the Upsilon Mu chapter of the International English Honor Society is open to any undergraduate or graduate student who has a minimum 3.0 average in English courses and has completed at least three semesters of college work. Sigma Tau Delta provides an opportunity for extracurricular social and intellectual contacts among students and faculty. Recent activities included a trip to the Shakespeare Festival, reception for the Shenandoah Shakespeare Express actors, and the annual book sale. For more information please contact the faculty sponsor, Dr. Julie Early, or email us at sigmatau_UAH@yahoogroups.com.
Upcoming Events
Sigma Tau Delta Book and Bake Sale
Sigma Tau Delta, the English Honors Society, will hold a book and bake sale in the front lobby of Morton Hall on the 2nd Wednesday and Thursday in October beginning (each day) at 9am. Come purchase cheap books and desserts and support the society.