Welcome
The English Department is comprised of scholar-teachers committed to the promotion of literacy and the cultivation of scholarly and professional competencies in critical thinking and persuasive writing across a wide spectrum of literary, technical, and rhetorical situations. We foster intellectual and cultural diversity, originality of thought, and clarity and cogency of expression through degree programs designed to advance careful, sophisticated reading practices as well as complex analytical and research skills. We aim to cultivate our students' management, organization, and production of knowledge. Our curricula prepare students for a wide array of professional endeavors, including law, teaching, publishing, technical communication, advertising, media, and business, as well as the pursuit of advanced degrees.
Department News
>>Fall 2014 EH 200-level: READINGS IN LITERATURE AND CULTURE I & II themes here.<<
NEW COURSES - FALL 2014
We are offering NEW COURSES in the fall semester:
EH 211: Creative Writing, MW 5:30-6:50, instructor Anna Weber
EH 303: Practice and Research in Technical Communication, TR 3:55-5:15, instructor Dr. Ryan Weber
EH 414/514: Creative Non Fiction, TR 5:30-6:50, instructor Dr. Diana Bell
EH 432: American Literary Modernism, MWF 11:30-12:25, instructor Dr. Laurel Bollinger
EH 461: Shakespeare I, TR 12:45-2:05, instructor Dr. Jeff Nelson
NEWS
March 27, 2014 - Recent UAH English graduate Mandy Hughes (MA, 2013) has started a theatre company, Rocket City Shakespeare, whose first production will be The Taming of the Shrew. Performances will be May 1, 2, 3, 8, 9, 10 in the Wilson Theatre on the UAH campus. Current English student Christa Reaves is assistant director, and English faculty member Chad Thomas is playing Baptista Minola. For more information click here.
March 1, 2014 - UAH English Graduate Student, Erin Gowdy, presented her paper "Utopian Echoes in A History of the World in 10 ½ Chapters," at the Sigma Tau Delta International Convention in Savannah, GA.
February 28, 2014 - On February 28 several of our graduate students were invited to MTSU, in Murfreesboro, TN, to attend the Virginia Peck Composition Series. This year's speaker was Cheryl Ball, featuring Dr. Cheryl Ball, Associate Professor of New Media Studies at Illinois State University. Dr. Ball is the editor of Kairos: A Journal of Rhetoric, Technology, and Pedagogy and is currently a Fulbright scholar at the Oslo School of Architecture and Design. (Pictured below, UAH Graduate Students: Brianna Cox, Christa Reaves, Cheryl Ball (Speaker), Loreal Moore, Kylie Lemon, Charles Grimm, Lora Hibbard, and UAH Associate Professor and Director of Composition, Dr. Alanna Frost.)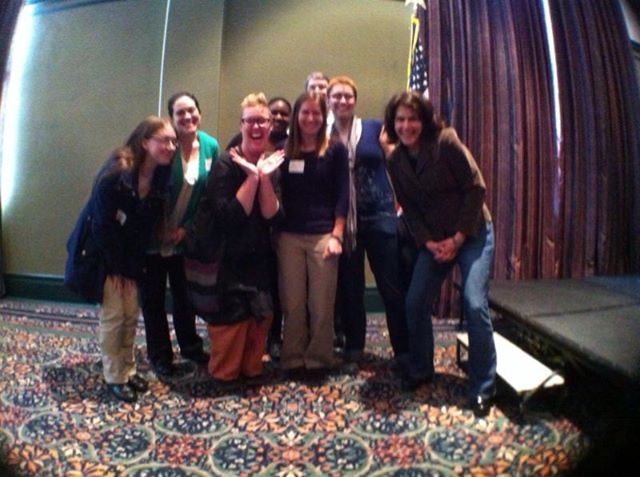 CONGRATULATIONS!
To Dr. Laurel Bollinger on her Promotion to Professor
To Dr. Alanna Frost on her Award of Tenure and Promotion to Associate Professor
NEWS OF FACULTY
Dr. Angela Balla presented a paper at the John Donne Society in Baton Rouge, LA, "The Politics of Circumspection in Donne's Sermons." Most recently (and I don't know if you want to wait to post this info till next Fall), I had an abstract accepted for the George Herbert Society meeting in October 2014, as did two of my graduate students, Mellissa Black and Ashley Sylvester.
In March, Eric Smith was an invited participant on a discussion panel devoted to "Postcolonialism and Science Fiction" at the 35th Annual International Conference on the Fantastic in the Arts, Orlando, FL, where he also delivered the paper "Monstrousness and Universal Love in the Postcolonial Science Fiction of Vandana Singh." At the 17th Annual Conference for the University of Florida's Marxist Reading Group, Gainesville, FL, Smith presented the paper "Feeling the 60s in the Age of Reagan: Failure, Repetition, and History in Eddie and the Cruisers."
Dr. Chad Thomas appeared as Joe Keller in UA Huntsville's production of Arthur Miller's All My Sons. His article, "Antonio's (Happy) Ending: Queer Closure in All-Male Twelfth Night" was accepted for publication in the Fall 2014 issue of Comparative Drama. Also this Fall, Dr Thomas will direct a production of Shakespeare's A Midsummer Night's Dream.
Dr. Laurel Bollinger published "Trauma, Influenza, and Revelation in Katherine Anne Porter's 'Pale Horse, Pale Rider.'" Papers on Language and Literature 49.4 [2013]: 364-389.
Dr. David Neff received the CLA Outstanding Faculty Award (2013). "'Invisible Hands': Paltock, Milton, and the Critique of Providence in Frankenstein" was published in ANQ 25.2 (2012): 103-08.
Dr. Joseph Taylor's article "Centralization, Resistance, and the Bare Life of the Greenwood in A Gest of Robyn Hode" appeared in the Spring issue of Modern Philology 110.3 (2013): 313-339. Also, Dr. Taylor's article "Sovereignty, Oath, and the Profane Life in the Avowing of Arthur" was published in the Spring issue of the medieval and early modern studies journal Exemplaria 25.1 (2013): 37-58.
Dr. Andrea Word and Department of Education Professor Jason O'Brien have been awarded a $1.1 million grant by the U.S. Department of Education's Office of English Language Acquisition. The grant will support second language instruction training for Huntsville City School teachers and administrators over the next five years.