Scholarships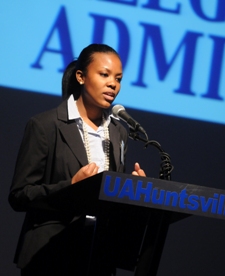 The following is a list of the 2010 - 2011 College of Business Administration Undergraduate Endowed Scholarships available to UAHuntsville students. In addition, some of the scholarships available are from external sponsors and are available to college students across the United States.
Alumni, parents, friends, corporations, foundations and organizations have established named scholarship funds recognizing academic merit and demonstrated financial need. Donor designations and restrictions apply.
Duration of Award
Awards are for the two-semester academic year, usually beginning in the fall semester. Continuation of the award is based on meeting the scholarship's renewal criteria. Students must reapply for scholarships each year by the deadline of December 1.
Applications
Students must submit a UAHuntsville Scholarship Application and be admitted to the University by December 1 in order to receive priority consideration for endowed scholarships. One UAHuntsville scholarship application will qualify a student to be considered for all College scholarship awards. This form may be obtained by writing:
Office of Financial Aid
UC 212
University of Alabama Huntsville
Huntsville, AL 35899
or on the web at http://finaid.uah.edu.