Dr. Gupta earns Distinguished Services Award for his work in India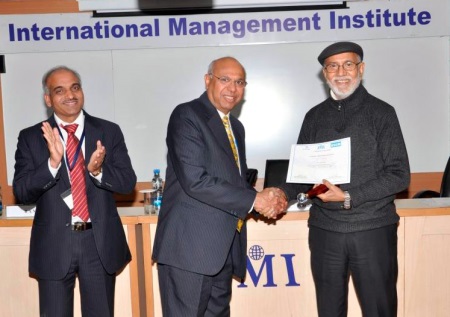 Dr. Jatinder (Jeet) N. D. Gupta was presented with the Distinguished Services Award by the Indian Subcontinent Decision Sciences Institute (ISDSI) at a ceremony held in Delhi, India, on Dec. 30, 2013. Dr. Gupta, who is an Eminent Scholar and Professor at The University of Alabama in Huntsville (UAH), also serves as the Associate Dean for Graduate and Sponsored Programs and the Director of the Integrated Enterprise Lab in the College of Business Administration at UAH.
"This award recognizes Dr. Gupta's long-term, sustained, and excellent contributions in the creation, fostering, and continued growth of the ISDSI," says Dr. Bhimaraya Metri, Dean Academic at the International Management Institute and President of ISDSI. "As such, there is no one else more deserving of this first Distinguished Services Award than him."
Dr. Ravi Kumar Jain, chair of the ISDSI Awards committee, agrees. "Dr. Gupta has served as the conference co-chair of each of the seven ISDSI conferences held in India," he says, "and has represented ISDSI throughout the world with commitment and excellence."
As for Dr. Gupta himself, he says the award "recognizes the value of the work we have been doing in globally expanding the reach of decision sciences in solving complex technical and managerial problems."
Moreover, he continues, "it shows that people in India and other emerging economies do wish to improve their decision-making processes and are willing to participate in making contributions to teaching and research in decision sciences."
And that trend is sure to continue for the remainder of Dr. Gupta's term as Vice President for Global Activities for the DSI. "I hope that I can continue to provide leadership and inspiration to this group of dedicated people in India and elsewhere," he says.