AACSB Accreditation Extended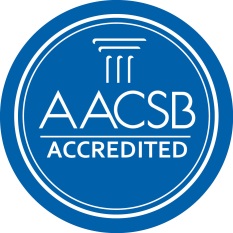 The University of Alabama in Huntsville (UAH) is proud to announce that the business degree programs offered by its College of Business Administration have earned an extension of accreditation from the Association to Advance Collegiate Schools of Business (AACSB).
"AACSB accreditation requires that we demonstrate three things to a review team of business college deans every five years," says Dr. Caron St. John, Dean of UAH's College of Business Administration.
The first is that UAH faculty members are at the top of their game. "A Ph.D. is not enough," she says. "Our faculty members must stay at the top of their field through on-going research and scholarship - all the time."
The second is that UAH students are learning what they are being taught. "It isn't good enough to prove that we are teaching the right things well," she says. "We must also demonstrate that our students have learned what we taught them."
And the third, says Dr. St. John, is that the College of Business Administration has "a strategic plan that provides the physical, financial and faculty resources required to support an exceptionally high quality education."
Since 1916, the AACSB has been the premiere accrediting agency for programs in business administration and accounting. Currently, less than 30% of business schools nationwide have received this accreditation.