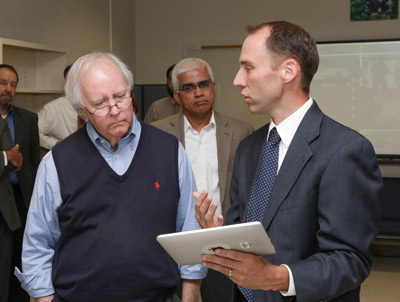 HUNTSVILLE, Ala. (Oct. 2, 2013) - University of Alabama in Huntsville President Robert Altenkirch toured a new Manned/Unmanned Collaborative Systems Integration Laboratory in Olin B. King Technology Hall on campus on Tuesday, Oct. 1.
The culmination of efforts that began in 2009, the $80,000 lab is a UAH/Army partnership and was built for the cost of materials alone by the America's Army Game Studios, said Dr. Thomas W. Davis, chief of the weapons branch of the U.S. Army's Research, Development and Engineering Command (RDECOM) at the U.S. Army Research Laboratory. The new lab will utilize data collected from UAH student players, who have grown up with video games, to develop warfighter systems to build effective teaming, decision making and performance, said Dr. Davis.
Real-time information will be provided by various means to students in gamed combat situations while they are in the presence of psychological and physiological stressors, Dr. Davis said. Their reactions will be tested and the information gained will be applied to systems that will promote warfighter cohesiveness.
The lab is also intended to support UAH in its efforts to gain National Science Foundation grants for related research. The knowledge base gathered will be shared between the university and the military. Another goal of the lab is to explore efficient and productive ways to enfold operation of unmanned aerial vehicles and ground-based robotic systems into forces operating on the ground through manned/unmanned teaming.
...Rapid Gallery Loading...
For more information, contact:
Jim Steele
jim.steele@uah.edu
256-824-2772
---
You may also be interested in: