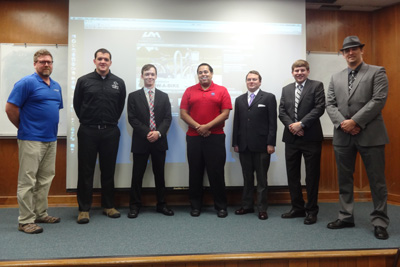 HUNTSVILLE, Ala. (September 17, 2013) - Presenting your research at a major conference is intimidating for anyone, let alone a student who is just starting out in their academic career. Now imagine doing it in a foreign country in front of the biggest names in your field.
But that's exactly what six students from The University of Alabama in Huntsville (UAH) will be doing later this month, when they attend the 2013 International Astronautical Congress (IAC) in Beijing, China, from Sept. 23 to 27.
"This meeting is like the Academy Awards of the aerospace industry," says David Cook, Coordinator of Student Research Programs for UAH's Office of the Vice President for Research. Not only is it attended by delegates from around the globe, but it also attracts professional researchers, top academicians, senior leaders in government and private industry, and the heads of the world's space agencies.
Far from being nervous, however, the students say they are excited by the prospect. "Really I'm just anxious to get there!" says Roberto Dextre, a graduate student who is pursuing his Ph.D. in aerospace systems engineering. "There's something special about walking up to the leaders of the aerospace industry and shaking their hands over coffee."
Or better yet discussing possible career opportunities, adds senior Christopher Barnett, who is majoring in mechanical and aerospace engineering. "I think it's going be a good networking opportunity and a chance to rub elbows with some of the big names in the business," he says.
This meeting is like the Academy Awards of the aerospace industry.
David Cook
Coordinator of Student Research Programs
It doesn't hurt that the group also has a few IAC veterans in their midst. Patrick Giddens, a graduate student who is currently working on his master's in aerospace systems engineering, went to Italy for the 2012 conference.
And both John Alcorn, a senior double-majoring in mechanical and aerospace engineering and mathematical sciences, and Marc Becnel, a graduate student pursuing his master's degree in aerospace engineering, attended the 2012 conference and the one in Cape Town, South Africa held in 2011.
Indeed, UAH has had a strong presence at the IAC meetings since the 2010 gathering in Prague - and not as members of the student congress, but as presenters in the regular congress. That's an important distinction, says Cook.
"This means they have cleared the high bar set by the congress organizer, the International Astronautical Federation, and are presenting shoulder to shoulder with the top leaders in their respective fields," he explains.
Moreover, three of this year's six student presenters were awarded sponsorship to attend the IAC through NASA's Education Department. "No other sponsored university has three representatives," he says.
And if that's not enough, Cook continues, "I'm informed that we make up nearly 10% of total number of students from all U.S. universities registered to attend. That's impressive!"
In keeping with this year's IAC theme of "Promoting Space Development for the Benefits of Mankind," each of the students will present the following research papers:
Friction Stir Weld Application and Tooling Design for the Multi-Purpose Crew Vehicle Stage Adapter , by John Alcorn
Random Access Microgravity Stowage - Design Team Outreach to Secondary Education Schools Promoting STEM Education Careers , by Christopher Barnett
Development and Testing of the Inertial Electrostatic Confinement Diffusion Thruster , by Mark Becnel
Integration Considerations in Satellite Propulsion Systems: Hall Thrusters Versus Ion Engines , by Roberto Dextre
Fast Z-Pinch Thruster for Space Tugs , by Patrick Giddens
Design and Development of a Microgravity Stowage System Specific for Deep Space Exploration , by Taylor Stokes
Of course, while the students' focus will be on their presentations, there will hopefully still be time for site seeing. Becnel, Dextre, and Giddens already have a visit scheduled to the Badaling section of the Great Wall of China as part of their sponsorship though NASA's Office of Education. Barnett, meanwhile, hopes to be able to see Tiananmen Square.
But even if most of them never make it out of the congress center, it will be worth it. "When our students step up to big challenges like this and represent our institution so well, it's a win-win situation," says Cook. "The students get the opportunity of a lifetime - which they worked very hard for - and UAH continues to build its reputation of being one of the top educational institutions in the world."
---
You may also be interested in: