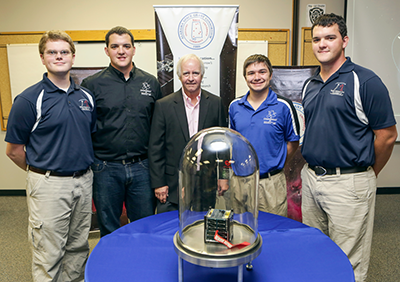 HUNTSVILLE, Ala. (September 12, 2013) - Members of the Huntsville space exploration community were invited to a Bon Voyage reception for the ChargerSat-1 yesterday. Designed and constructed by the Space Hardware Club (SHC), a student-run organization at The University of Alabama in Huntsville (UAH), the miniature satellite will be launched into space on November 4.
SHC member Mark Becnel, who will graduate from UAH this December with a master's degree in Aerospace Engineering, delivered a few words about the satellite, its history, and its upcoming trip to the gathered audience.
"We discussed the possibility of an entirely student-built CubeSat back in 2008, and in 2010, we finalized its mission," he said, explaining that the 4-inch, 2.2 pound satellite would be charged with three objectives:
demonstrating passive nadir axis stabilization for picosatellite attitude control
improving solar power collection for picosatellite operations
improving communications for picosatellite operations
The following year, the team applied to and was accepted for NASA's CubeSat Launch Initiative, which enables small satellite payloads to fly on rockets. "We had a lot of support from colleagues at UAH, AIAA, NASA, and other industries, which helped us improve our presentation," said Becnel of the process.
After that, he continued, "we had to sit and wait for a launch to come to us." Typically, that takes anywhere from nine months to a year, but Becnel received an unexpected phone call one afternoon while out rock climbing with other members of the SHC.
"They asked if we could finalize a flight unit in six months to fill a spot that opened on late notice," said Becnel. "So we said 'Yes, of course' even though we didn't know what we were doing!"
The result, he said, was a "manufacturing and logistical nightmare" given the satellite's complexity. "Most of our BalloonSat payloads spend 10 to 20 minutes in space, " said Becnel. "But she's going up for two years by herself with no corrections, so she has to launch correctly the first time."
To that end, the team received critical assistance from partners across the Rocket City. "We did our requirement testing at NASA's Marshall Space Flight Center, our electronics assembly and cleaning at STI Electronics, and our rocket preparation at Wyle Labs," he said.
But because the satellite will spend so much time in a microgravity environment, Becnel said the team also had to be sure each of ChargerSat-1's key technologies, from its gravity gradient stabilization system to its four deployable solar panels, would work properly.
So last August, they carried out an essential microgravity test at Ellington Field in Houston. As seen in the video below, the team was able to observe and measure the forces on the satellite as it went through each of its five mechanical deployments and movements:
Needless to say, it passed with flying colors. And now the little satellite is ready for the next step of its journey: a trip to Kirtland Air Force Base in Albuquerque, N.M., to be added to a stack of more than two dozen other CubeSats before heading to NASA's Wallops Flight Facility at Wallops Island, Va., for launch.
"Liftoff is scheduled for November 4 aboard the Minotaur 1, with November 5 as the backup date," said Becnel. And if anything goes wrong before then? The SHC is leaving nothing to chance. "We have a backup unit we can deliver in a few days!" he said.
The team will chart ChargerSat-1's progress for the duration of its mission, using information that it will send back via radio transceivers and other data collection devices. But once it's time to come home, the miniature satellite will meet its fiery fate upon reentry.
By then, of course, a new generation of students will be tackling the challenges of sending ChargerSat-2 into space. And just like the ChargerSat-1 team, they'll be doing so in their spare time, fueled not by the hopes of a good grade or class credit but by their passion and dedication.
It's a lot of work, admits Becnel's fellow team member Markus Murdy, a junior in aerospace engineering. But, he adds with a laugh, it's worth it. "This is the Space Hardware Club at UAH. If it wasn't hard it wouldn't be rocket science!"
---
You may also be interested in: