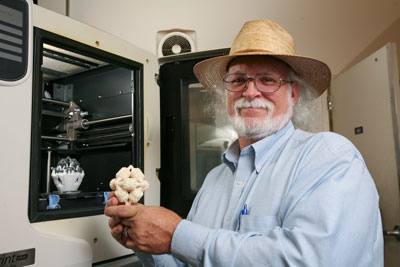 HUNTSVILLE, Ala. (July 24, 2013) - At one of the largest student-centered facilities of its type in the country, students at The University of Alabama in Huntsville (UAH) have the opportunity to turn their engineering designs into reality.
The Engineering Design and Prototyping Facility (EDPF) at UAH has done work for industry and defense clients but "our primary clients are students working on their class based and extra-curricular projects," said Stephen Collins, the prototype development specialist who runs the place.
Located in the west wing of Olin B. King Technology Hall, the 12,000-square-foot, controlled-access facility provides capabilities in rapid prototyping, laser digitizing, computer-assisted manufacturing and composite materials manufacturing, as well as more conventional manufacturing and welding methods, which are primarily used by students in the University's Mechanical and Aerospace Engineering (MAE) Department.
"We are a fully equipped machine shop designed for student use. Users range from graduate students with extensive shop experience before they got to UAH to incoming freshmen who have never seen any of the equipment we use," said Collins, who offers a shop class focused on safe operation of the equipment and tailors instruction and supervision to the experience level of each user. "We incorporate hands-on projects in several of our courses and students need access to real-world equipment to produce quality, real-world projects.
"My primary contributions are to provide a safe and engaging environment and insights from my 30 years of experience in manufacturing," he said. "Our goal is to use that insight to instill practical applications for the concepts of manufacturability. The big question is, can the design be manufactured practically and efficiently with available manufacturing processes?"
We are a fully equipped machine shop designed for student use. Users range from graduate students with extensive shop experience before they got to UAH to incoming freshmen who have never seen any of the equipment we use.
Stephen Collins
Prototype development specialist
Engineering Design and Prototyping Facility
The EDPF has a full-range manual machine shop with lathes, mills, band saws and drill presses, as well as Computer Numerical Control (CNC) machining systems; a full-range welding shop with MIG, TIG and stick welders; and general fabrication facilities that include workbenches, project lockers and storage areas for larger projects.
Our Rapid Prototyping (RP) capabilities are available to each and every one of the class based and extra-curricular projects as well as for graduate student research. Each project has a RP budget of $250, although donations from local companies and agencies frequently allow for a larger amount for deserving or ambitious projects.
"Rapid prototyping provides the students with a much greater degree of flexibility in their design choices," Collins said. "It allows them to create parts that are otherwise not readily produced." Examples include complex turbine geometries for a recent entry level class, components and flight control surfaces for unmanned aerial vehicles (UAV's) and student launched rockets, and has even allowed students to investigate blood flow restrictions in a real patient by creating a physical model of the patient's femoral artery from Magnetic Resonance Imagery (MRI) data."
A big user is UAH's Space Hardware Club, which builds much of its hardware for various projects and competitions at the facility, including a real satellite, ChargerSat 1. ChargerSat 1 is a pico-satellite designed and built entirely by UAH students that is scheduled to launch on Oct. 30. Some mock-ups and form-fit models were built using the rapid prototyping capabilities available to students. All of the machining and testing of flight hardware was done by the students in-house.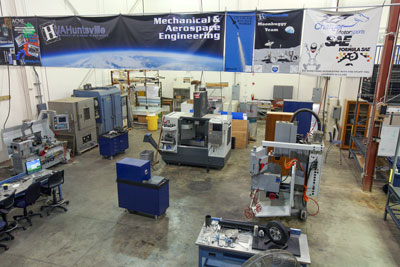 Students in Dr. Christina Carmen's Senior Design courses are frequent users of the facility. These courses focus on engineering design and turning those designs into real products. Design projects are often created in cooperation with local companies or other local organizations that are able to take advantage of student creativity to solve unique and complex problems.
Customers of this series of classes have included NASA, the National Space Grant Foundation, the U.S. Navy, the U.S. Dept. of Defense, the U.S. Army, the National Space Science and Technology Center, Stevens Institute of Technology, Dynetics, Cape Peninsula (South Africa) University of Technology, Sci-Quest Hands-on Learning Center, Fontaine Inc. and numerous kindergarten through 12th grade schools for Science, Technology, Engineering and Mathematics (STEM) projects.
Graduate students and faculty researchers also take advantage of the unique capabilities that rapid prototyping offers.
"The Fused Deposition Modeling (FDM) process used in both of our Stratasys machines allows us to make models from commercially available thermoplastics (ABS and polycarbonate) that can be used as form/fit models or final products for a wide variety of applications," Collins said. "The ability to co-extrude a water-soluble support material even makes it possible to create moving mechanisms as a single entity." He offers an analogy of the basic process as "a computer-controlled hot-glue gun that uses Weedeater string instead of hot glue."
Organizations interested in becoming involved with student design projects may contact Dr. Christina Carmen, a mechanical engineering lecturer who is in charge of senior projects, at christina.carmen@uah.edu or 256-824-6870.