UAHuntsville shows research depth, strength during International Astronautical Congress
HUNTSVILLE, Ala. (Oct 13, 2011) - As the world's foremost space professionals gathered in Cape Town, South Africa last week, students, faculty, and research staff from The University of Alabama in Huntsville (UAHuntsville) demonstrated the strength and breadth of the university through the contribution of more than 20 papers to the annual International Astronautical Congress (IAC).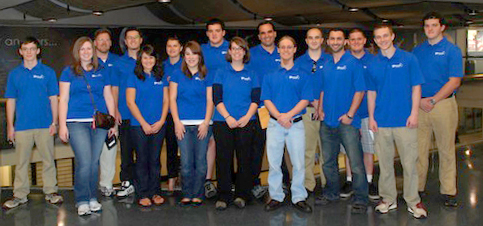 A contingent of UAHuntsville students traveled to Capetown, South Africa for the 2011 International Astronautical Conference.

The IAC is the world's largest annual gathering of space professionals from nearly all areas of expertise, including the heads of the world's space agencies, senior policy and decision-makers, as well as leading scientists, engineers, program managers, and explorers from around the world.
The UAHuntsville group consisted of 16 undergraduate and graduate students, along with 10 faculty members and research staff. The students participating had each submitted an original research abstract several months ago, and were selected through peer review to complete the research, author a paper, and present their work in person to a large audience of experienced managers, astronauts, leading engineers, historians, and policy-makers from around the world.
The sessions, which took place at the week-long conference in Cape Town, covered space related topics including propulsion engineering, earth science and remote sensing, high-energy particle measurements in the atmosphere, environmental control and life support for human spaceflight, space policy, and space history.
While attending the conference, UAHuntsville students were also honored to take part in private breakfasts with: NASA Administrator Charlie Bolden; Thomas Reiter, former Astronaut aboard Soyuz and Space Shuttle, and current Head of Human Spaceflight and Exploration at the European Space Agency; Mr. Jean-Jacques Dordain, Director General of the European Space Agency; Professor Johann-Dietrich Woerner, Executive Director of the DLR; and Dr. David Kendall, Director of Science and Technology for the Canadian Space Agency. These meetings, arranged through the UAHuntsville Office of the Vice President for Research (OVPR), added additional value to the students' experience, giving them first-hand access to many of the world's most prominent space leaders.
"To be a university student, and be afforded the opportunity to have in depth conversations with the head of NASA, the European Space Agency, and other incredible leaders, was simply amazing," said mechanical engineering major Brandon Setayesh, who says he has found a renewed energy for pursing his career after attending the conference. "I will never forget the opportunity that UAHuntsville has provided me, and know that the connections I made in Cape Town will have an impact on my future."
Student participation was facilitated through a grant from OVPR, and organized by the Coordinator for Student Research Programs, Mr. David Cook.
Dr. Christina Carmen, a faculty member in the Department of Mechanical and Aerospace Engineering, served as faculty advisor to several of the involved students on their research projects, and her paper, titled "Integration of a NASA ESMD Faculty Fellowship Project Within an Undergraduate Engineering Capstone Design Class" was also selected for the conference. Additional UAHuntsville papers were contributed at the IAC in heavily attended sessions involving Dr. Elizabeth Newton, Dr. Richard Fork, Dr. Richard Tyson and Dr. Michael Griffin.
"The IAC is the world's biggest annual space conference. As we continue to raise the profile and contributions of our university to the world community, the IAC is a place where we simply must be very visible, as a leading research university based in a deeply rich spaceflight community. It is very encouraging, and incredibly satisfying, to see our students interacting in one-on-one situations with some of the world's pre-eminent leaders from all facets of space," said Dr. John Horack, Vice President for Research at UAHuntsville. "Our students derive a greater sense of confidence in their abilities, expand their professional network, and raise the level of their professional capabilities, while building a much better idea about what their future may have in store."
For additional information, go to the UAHuntsville Research facebook page at www.facebook.com/UAHResearch.