UAHuntsville students design Sci-Quest hybrid car display
HUNTSVILLE (January 30, 2013) – A new exhibit that shows how hybrid cars store and expend energy was designed by students in a University of Alabama in Huntsville Mechanical and Aerospace (MAE) capstone design class for the Sci-Quest Hands-on Science Center in Madison.
Dr. Christina Carmen's students conceived, designed and built the unique patentable project using hybrid car technology for their senior project. The exhibit shows how a hybrid car stores energy and how that energy is used to increase fuel mileage.
"The team had a choice as to the exact concept that would be conveyed via their design," Dr. Carmen said. "At the start of their senior design project, they researched various options, presented them to the customers/stakeholders via a formal design review, and received feedback as to what would be most beneficial for the museum and its visitors."
UAHuntsville students Dakota Gomez, Jordan Steelman, Chandler Wicks, Paul Fryer and Jeanette Zatowski teamed up for the exhibit project.
The team went through a vigorous two-semester design effort that began with extensive research, trade studies and design reviews. At the end of the first semester, students completed a detailed final report with complete design drawings, hazard and risk assessments, technical analysis, costs analysis, operating manual, etc.
"Proper and thorough documentation of the design is emphasized during the first semester and my teams all follow the NASA Systems Engineering Design Process in order to acclimate them to real-world design tools and methods," said Dr. Carmen. "The second semester focused upon the fabrication of the hardware. This was probably the most taxing semester for the students as everything works 'on paper' and it is not until you fabricate and test, that all of the details need to be perfected."
The team worked diligently and Dr. Carmen reported that the customers were impressed with their dedication and professionalism. "Their product has been at Sci-Quest since December and has not required any repairs or refinement. It is truly impressive."
The Tennessee Valley Chapter (TVC) of Women in Defense (WID) is sponsoring the hybrid car energy exhibit as part of its Science, Technology, Engineering and Mathematics (STEM) Initiative. Deborah Fraley, director of WID-TVC, has worked closely with the UAHuntsville student team. The goal is to promote public interest in STEM education and careers, which aligns with Sci-Quest's mission.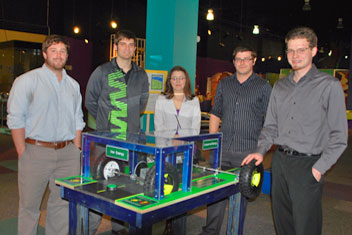 Courtesy Madison Weekly News Students in a University of Alabama in Huntsville Mechanical and Aerospace (MAE) capstone design class created a new Sci-Quest exhibit that shows how hybrid cars store and expend energy. From left are Chandler Wicks, Jordan Steelman, Jeannette Zatowski, Dakota Gomez and Paul Fryer.
"As the MAE Product Realization senior design class instructor, I continuously try to procure customers and sponsors that will allow our students the ability to design products that match their interests," Dr. Carmen said. "Therefore, we have various customers including NASA, the U.S. Navy, K-12 schools in the U.S. as well as abroad, Sci-Quest, Haiti Missionaries and many others."
The broad scope of customers allows students the option of selecting a senior design project that interests them.
"This team chose to work on a museum display for Sci-Quest due to their interest in creating a product that would spark younger students to possibly pursue a STEM education – a critical need for our nation," said Dr. Carmen. "Sci-Quest has been great to work with and, thus far, I have had five teams develop interactive museum displays for them. Women in Defense, via Ms. Deborah Fraley, has generously funded all of the projects."
---
You may also be interested in: