Smith chosen interim research vice president; committee established to lead national search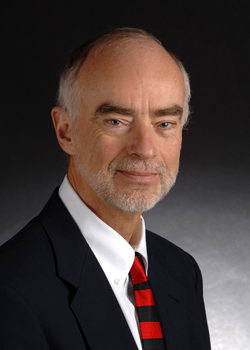 HUNTSVILLE, Ala. — Dean Smith has been named interim vice president for research for The University of Alabama in Huntsville, officials with the university announced today.
UAHuntsville President Bob Altenkirch said Smith will begin his duties on September 4, and a national search for the permanent post will begin immediately.
Dr. Smith's experience includes serving as a research administrator at the University of Wisconsin-Madison, the University of Hawaii, and Texas Tech University, in addition to serving as dean of the graduate schools at Wisconsin and Hawaii. He has been on the faculty at each of those universities in addition to UCLA and Stanford University.
He earned a bachelor's degree from Harvard University, as well as a master's and a Ph.D. from Stanford University, all in the field of biological sciences.
As an administrator, Dr. Smith has had extensive involvement with several Department of Defense agencies at both Hawaii and Texas Tech. Dr. Smith also oversaw management of the University of Hawaii's Institute for Astronomy, which included several of the world's most powerful telescopes. Under his leadership, the University negotiated operational contracts with partner institutions (Caltech, and the University of California), international partners (Canada, France and Japan), as well as NASA and the Air Force.
He is also the author of the book, Managing the Research University.
A national search for a vice president for research is under way with the establishment of a search committee that includes community leaders as well as a cross-section of university representatives.
UAHuntsville Dean of the College of Business Administration Caron St. John will chair the search committee. Other members of the committee include: Marc Bendickson, Dynetics CEO; Jim Myles, DynCorp International Vice President, and retired U.S. Army Major General; Jason Cassibry, associate professor of mechanical and aerospace engineering and researcher in the Propulsion Research Center; Anne Marie Choup, associate professor of political science; Letha Etzkorn, professor of computer science; Karen Frith, professor of nursing; Laurel Long, assistant vice president for human resources; Chih Loo, associate vice president of budgets and financial planning; Shankar Mahalingam, Dean of the College of Engineering; Dick Rhoades, director of the UAH Research Institute and research professor of the College of Business Administration; Carmen Scholtz, professor of chemistry; and Gary Zank, physics department chairman and director of the Center for Space Plasma & Aeronomic Research.
For more information,
contact Ray Garner
256.824.6397
(256.UAH.NEWS)
ray.garner@uah.edu