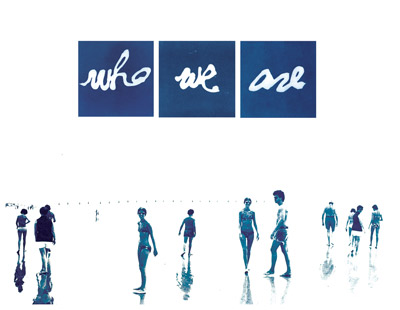 HUNTSVILLE, Ala. (Oct. 7, 2013) - When Harrison Walker decided to attend The University of Alabama in Huntsville (UAH), he had yet to figure out what he wanted to major in, let alone do with his life. But after two years of "switching around from business to marketing" he says, he realized his passion lay in the arts.
"I knew I wanted to do something that had to do with photography, specifically the technical side of traditional photography and its history," says Walker, who is a Huntsville native. "So I decided upon studio art."
Fast-forward three years later and now the one-time business major is presenting his senior exit show entitled "Who We Are." Walker says the collection of images he selected for inclusion "makes the viewer think about the past and 'where they came from'." It also challenges them to become "who we are."
"My imagery invites the viewer to associate the visual elements with their own personal experiences, connecting them directly to the work," says Walker, who will graduate with a bachelor's of fine arts. "They may think back on their own lives to consider how the creation and destruction of relationships shapes who they are today."
Repeated imagery also features prominently in Walker's works, because it encourages the viewer to notice differences only upon close examination. "An image may begin in one context and serve a particular purpose," he explains, "but then may be altered, adjusted or incorporated in a different way to yield a different image."
No matter what viewers take away, however, they won't have seen the last of his artistry. Walker may not have known what he wanted to do when he entered UAH, but he knows exactly what he wants to do when he leaves this December: attend graduate school.
"The BFA is a program that is more geared toward building your portfolio and giving you that extra year to help figure out your direction," he says. "So the Art Department has done a really great job in preparing me for what is to come."
***
Walker's exit show will be on display from Oct. 2 through Oct. 25 in the Wilson Hall Gallery, with a reception on Tuesday, Oct. 15, from 4 - 6 p.m.
---
You may also be interested in: