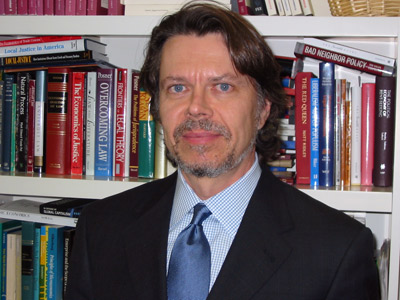 HUNTSVILLE, Ala. (October 2, 2013) - Noted economist and educator, Donald J. Boudreaux will give a public talk on the campus of The University of Alabama in Huntsville (UAH) on Friday, October 11. Boudreaux is professor of Economics and the Martha and Nelson Getchell Chair for the Study of Free Market Capitalism at the Mercatus Center at George Mason University (GMU) in Fairfax, Va.
His UAH talk "Cleaned by Capitalism," will begin at 11 a.m., in the Chan Auditorium (room 125) of the Business Administration Building. Boudreaux will visit the campus as a UAH Faculty Senate Distinguished Speaker. The event is free and open to the public.
During his presentation Professor Boudreaux will talk about how tragic it is that demagoguery fueled by misinformation leads people today to blame the free market for all real and imaginary environmental problems. Additionally, he will talk about how the free market has been the greatest cleanser and disinfectant of the environment and the most successful pollution fighter that the world has ever known.
Boudreaux was the chairman of the Department of Economics at GMU from August 2001 to August 2009. Currently, he is the director of the Center for the Study of Public Choice. He was the president of the Foundation for Economic Education; associate professor of Legal Studies and Economics at Clemson University; and assistant professor of Economics at George Mason University.
He has lectured, in the United States, Canada, Latin America, and Europe, on the nature of law, antitrust law and economics, and international trade. Boudreaux has published numerous articles in The Wall Street Journal, Investor's Business Daily, Regulation, Reason, Ideas on Liberty, The Washington Times, The Journal of Commerce, The Cato Journal, and several scholarly journals such as the Supreme Court Economic Review, Southern Economic Journal, Antitrust Bulletin, andJournal of Money, Credit, and Banking. His published books include Globalization (2008),Hypocrites & Half-Wits: A Daily Dose of Sanity from Cafe Hayek (2012), and a blog (with Russ Roberts) entitled Cafe Hayek, http://cafehayek.com.
For more information on this event, please contact Dr. Krishnan Chittur, professor of Chemical Engineering, EB 121, 256.824.3596, or getvisitorinfo@gmail.com or chitturk@uah.edu.
For more information, contact:
Joyce Anderson-Maples
Direct: 256.824.2101
maplesj@uah.edu
---
You may also be interested in: