UAH student an "experienced" engineer before he arrived on campus
HUNTSVILLE, Ala. (April 22, 2013) - When Josiah Thomas entered The University of Alabama in Huntsville (UAH) in 2009 as a freshman mechanical engineering student, he already had four years of "on the job training" in computer aided design engineering and drafting.
The Athens resident graduated from The Way Home Christian School, and did not take advanced placement courses like most of his fellow college students. But, Josiah's dad, Randy, was an engineer at a company in Huntsville's Research Park, and would often bring work home and let the youngster "help" with certain projects.
During Josiah's senior year in high school, he participated in BEST (Boosting Engineering, Science, and Technology) Robotics, serving as team lead, chief designer and lead fabricator. "This experience cemented my love for engineering, and helped me to gain some experience while still in high school." BEST is a national six-week robotics competition held each fall in the United States, and is designed to interest middle and high school students in engineering careers.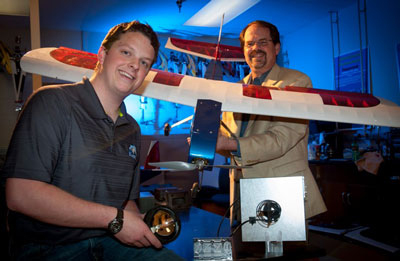 Aaron Sexton | UAHuntsville
Mechanical Engineering student Josiah Thomas (left), and Dr. D. Brian Landrum, associate professor of Aerospace Engineering at UAH, discuss placement of a solar blind fire sensor on a UAV (unmanned aerial vehicle).
"I looked at several other colleges before choosing UAH. After considering Auburn, Vanderbilt and several other universities, I chose UAH because of the location and the school's size," Josiah said. "Being across the street from the second largest research park in the country, and just down the road from Redstone Arsenal and Marshall Space Flight Center were definitely huge pluses, and I knew it wouldn't be hard to find internships and co-ops. UAH has been a wonderfully personal university, and I don't think I could get that experience at another school."
With his major already established at UAH, Josiah quickly declared a minor in mathematics. "I realized how much I loved math as I worked through my coursework. I had several professors that I really enjoyed in the Mechanical and Aerospace Engineering (MAE) Department. All of my mechanical and machine dynamics classes were with Dr. Donald Wallace. Listening to his stories and learning from his 40 plus-years of experience was awesome. My heat transfer series classes were another favorite of mine, and I was privileged to have Dr. Francis Wessling teach those classes.
"My time at UAH over the past four years has greatly prepared me for the future," Josiah said. "At several job interviews, I have been able to talk intelligently about cutting-edge technology that either the company has just invested in or has worked with because of my experiences in both the coursework and the research."
A quick look at the innovative projects the technically savvy undergraduate student has been involved with is enough to make a seasoned researcher green with envy.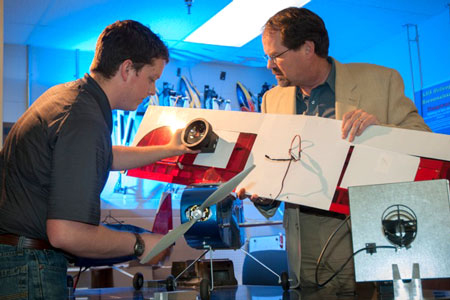 Aaron Sexton | UAHuntsville
Mechanical Engineering student Josiah Thomas (left), and Dr. D. Brian Landrum, associate professor of Aerospace Engineering at UAH, discuss placement of a solar blind fire sensor on a UAV (unmanned aerial vehicle).
During Josiah's senior year at UAH, he has worked on several projects with his advisor, Dr. D. Brian Landrum, associate professor of aerospace engineering. "Dr. Landrum taught my senior design class, and I have truly learned a lot under his instruction."
Landrum assigned Josiah the responsibility of setting-up the department's new rapid prototyping system. The system creates high-end functional prototypes for a fraction of the cost of optical fabrication machines. Rapid prototyping devices build parts using a high-resolution digital light processor to solidify a liquid polymer that results in durable plastic parts.
In addition, Landrum offered Josiah an undergraduate research position with the RoCoRE research group. He worked for two years with the group, developing payloads to be integrated into small-scale UAVs (unanned aerial vehicles).
"Our main focus has been a solar blind fire sensor. Optical equipment designed to detect flame phenomena of a fire, patented by Darell Engelhaupt, research scientist in the UAH Center for Applied Optics. Initial testing has shown that we can detect match-sized flames at 400 feet, in direct sunlight," Josiah explained. "Over the two years I worked with the team, I presented this research at two regional conferences, two national conferences and two local conferences. Last year, I presented development of the fire sensor at the International Astronautical Congress in Naples, Italy."
"Josiah is technically astute and a very hard working young man," said Dr. Brian Landrum. "He is humble and mature beyond his years, as well as conscientious in the classroom and in all research endeavors. We are looking forward to his return in MAE as a graduate student."
While attending UAH, Josiah found time to volunteer as an American Institute of Aeronautics and Astronautics chairman at UAHuntsville. "This was a very rewarding experience, helping me to network with different professionals in the aerospace community and help get the younger students in the MAE program excited about their design classes."
Last summer, Josiah began working as an intern with Northrop Grumman in Huntsville, supporting the IBCS and CANES programs. "As an intern, I have been able to work with Northrop's rapid prototyping systems and Humvees, and work with talented individuals who want to mentor me in my career. Being able to support the troops overseas directly has been a very rewarding experience, and has given me the ability to think more critically about my design decisions," he said.
After graduating from UAH, Josiah will secure employment locally in the defense industry before returning to the university to pursue a master's degree in mechanical engineering.
Josiah is the oldest son of Randy and Jennifer Thomas. Josiah's youngest siblings are Rebekah, Jonathan, Anna, Leah, Joel, Jeremiah and Jacob. The Thomas family resides in Athens.
---
You may also be interested in: