Unicyclist – and gamer – has been campus mainstay during college career
HUNTSVILLE, Ala. (April 23, 2013) – You probably know him as "the unicycle guy." But his real name is Nick Hanson. And he only just started riding about a year before he arrived at UAH to study computer science.
It was his father who originally inspired him. "My dad rode a unicycle when he was in college," said Hanson. "His bicycle - or parts of it - kept getting stolen, but the unicycle he could take into class with him."
That 24-inch Schwinn ended up in the family garage until Hanson, a Madison native, decided to learn how to ride. "I started just to see if I could do it. I don't really know why," he said. "And in so much as you can teach someone, my father taught me."
At first it was a question of getting up on the unicycle - and then learning how to fall off of it. "You don't want to hold onto anything, you just want get up and then fall forward," said Hanson. "If you're falling off the back you're not riding it correctly."
Then he had to master control. "The pedals are fixed to the tire, so it's a lot like a fixed-gear bike. Going forward is about the easiest, followed by turning," he said. It's staying in one place that's the hard part.
"It is actually difficult to stop or stay in one place simply because it is hard to balance there," he said. "Staying in one place is the final trick that you need for regular functionality, like if you have to wait behind someone."
Hanson said it took him about a month to get the hang of it, after which he decided to ditch the Schwinn and purchase a 28-inch Sun. But it was once he started riding regularly to class - first at Bob Jones High School and then here at UAH - that he moved up to a 36-inch Coker.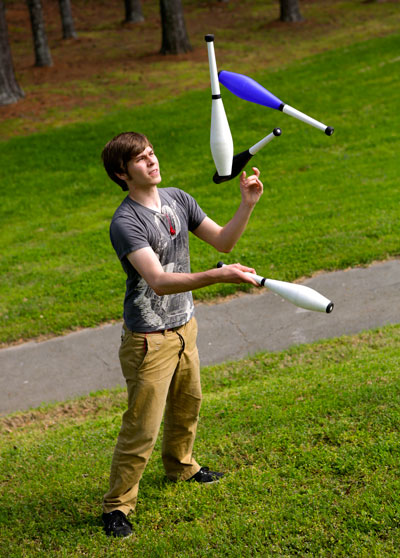 Michael Mercier | UAHuntsville
Student Nick Hanson displaying another of his unique skills: juggling.
"They call it a commuter unicycle," he said. "That tire size means I can ride at approximately bike speeds on flat ground or uphill." And though it currently has a broken seat, he's holding off on buying a new one.
"For someone just learning, a unicycle can cost around $100," he said. "But the higher quality you get, they can go up to $300 or even $1000, depending on what you're looking for." With that kind of investment, he said, he will have to wait until "further along in my career!"
Over the years, Hanson said he has found several benefits to unicycle riding. Like, for example, the fact that unicycles leave a rider's hands free to do other things such as eating, texting, talking on the phone - and occasionally juggling.
Or the fact that unicycles by their nature are rarely stolen. "I've not felt a risk in people taking it here because most of the people who can ride away with it are the ones I've taught to ride!" he said. "So I've never had to lock it up."
Michael Mercier | UAHuntsville
Hanson on his 36" Coker unicycle.
As for downsides, there are a few. "It's a little more physically taxing. Over the long term, core muscles have to be developed for balance," said Hanson. "I also don't typically reach speeds that bicycles do, and while it's possible to coast, it's incredibly difficult."
Then there's stalling, a technique that he has yet to master. "Even more skilled unicyclists can stall and be completely still with the pedals parallel to the ground," he said. But it's not something that concerns him overmuch. "I'm a hobby cyclist," he said. "I do it out of function."
And though it's a very unique hobby, he continued, it's not the only thing in his life. "I'm part of another group on campus, Student-Run e-Sports. It's a gaming club promoting casual and competitive gaming at UAH."
That duality is something Dean of Students Dr. Regina John Hyatt can attest to. "Nick brings a sense of specialness and eccentricity to the campus. He can do anything on the unicycle," she said. But, she added, "if you don't see him on the unicycle, chances are you'll see him in front of the computer playing some exciting e-sports game!"
And one day, Hanson said, he hopes to be a software developer who may - or may not - use a unicycle to commute to work. "I don't like to hold unicycling out there because I don't want to be identified by that - I'd rather be known as Nick and for other things of substance," he said. "Just because I use this to get to class doesn't mean I need to be defined by it."
Still, he does enjoy the fact that he's brought attention to unicycling over his past four years at UAH. And, he added with a laugh, "I've found that it is the most consistent way to perform an introduction!"
---
You may also be interested in: