Chargers baseball coach hopeful for – but not counting on – championship win
HUNTSVILLE, Ala. (April 16, 2013) - Hunter Royer has been a coach long enough to know that you shouldn't jinx a team by predicting victory. So when asked if he thinks the UAH Chargers baseball team will win the Gulf South Conference (GSC) Championships this May, a conference in which they are tied for first place in the standings, the head coach is decidedly diplomatic.
"It would be great to win. That's what you play for. But we can't really worry about that," he said. "We have to try to get better every day and that's got to be our goal. If we do that, everything else will fall in line and take care of itself."
It's an approach Royer has stuck to since he began his coaching career under West Alabama Head Coach Gary Rundles. "I started out as an assistant coach at West Alabama and then got an assistant job here," he said. Four years later, he became head coach.
"It's always a goal when you get into coaching - you want to do things your way and see if it works - but it's everything I thought it would be and a little bit more," he said of the promotion. "It's very rewarding. There's nothing better than having guys play for you and graduate and still stay in touch."
Royer said he is especially grateful to Rundles and his coaching staff for giving him a good foundation. "I owe a lot to those guys because they threw me in the fire and let me do my thing, so I'm grateful to them for where I'm at today."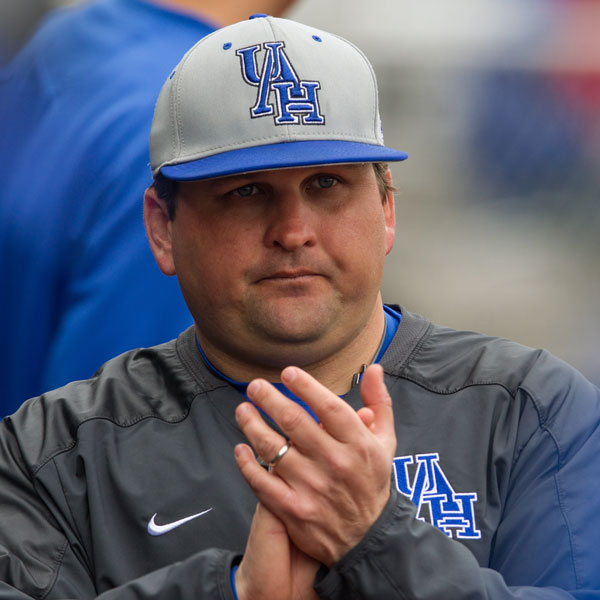 Coach Royer cheers on his Chargers
He also looks up to former Major League coach Tommy Lasorda. "I've always liked his style and how he handled his players," he said. "He was fiery, but he also seemed like a down-to-earth guy away from the field."
But while Royer aspires to be the same, he said his wife might say otherwise during recruiting season. "It's very stressful. You honestly never know what you've got until you get them in here," he said of the process. "So it's always a risk, with any sport and at any level."
Both he and Assistant Coach Evan Bush attend hundreds of games "all summer long, sitting in 100-degree heat," hoping to find the type of players they think will be a good fit for the Chargers program.
First, he said, "we look for guys that play the game hard, blue collar players who will play hard even when things aren't going well. We know those guys will succeed here." But, he added, "we also want high character guys, guys that we know are going to do the right things on and off the field."
Players also have to be able to literally make the grade, which isn't always easy given UAH's rigorous curriculum. "We have to get guys who can come here and pass academically, and it's a hard school, so that makes it a little bit more difficult for us," said Royer.
But it also makes things easier. "We don't have to worry about our guys because they study and do well," he said. "And it means we get young men who care about their education and who want to succeed down the road, not just in athletics. They understand the value of the education here and what they've got a chance to walk away with."
Being a coach is very rewarding. There's nothing better than having guys play for you and graduate and still stay in touch.
Hunter Royer
Head Coach
Chargers Baseball
Currently there are 39 players on the roster, and most are in one of four study areas. "Right now we have 12 on the team in engineering and we've got a lot of guys in business, history, and exercise science," he said. And while some players go on to sign independent contracts or even in one case sign with the Kansas City Royals, Royer said "most end up graduating and going on to be very successful in their jobs."
Of course one thing that would help the recruitment effort would be winning the championship. "Anytime you have success it's easier to recruit," he said. "So if we won, we'd be very excited and probably get on the phone and start calling recruits."
But first comes first, and that's getting to the championship. "We have three more weeks of the regular season left, which includes 9 conference games and 2 nonconference games, and then we have the conference tournament," said Royer.
Assuming the rankings don't change, UAH as the current number one will play the current number eight, Christian Brothers. But even then, said Royer, he'll leave the trash talk at home. "It always comes back to bite you."
Instead, he'll do what he's always done, which is get his team to work harder everyday. "We have a good group of older guys who understand what's in front of them and what we have a chance to obtain," he said. "Pitching and defense wins championships and that's where we have to work to improve."
And if they end up falling short of a championship win, well, that's part of the game. "We want to win every year, but I don't put a timetable on that. Our goal is to get these guys in here, get them a quality education, and hope they're successful down the road," said Royer. "And I am happy where I'm at - very happy. I hope I'm here for a while."
Still, he added, "we do want to win a championship!"
---
You may also be interested in: