High-achieving Haleyville native finds UAH challenging, encouraging
Maintaining a 3.9 grade point average for four years is hard work, but University of Alabama in Huntsville (UAH) senior mechanical engineering student Annalisa Fowler of Haleyville, Ala., said the university has had the right mix to challenge her, encourage her and give her a head start on a career.
"I've had the opportunity to work on so many absolutely amazing projects, and it's all from talking to my teachers and fellow students. Because of this, I have had the opportunity to do so many awesome things and have so many great experiences with my school," said Fowler, who is counting the days until she graduates with a bachelor's degree.
Fresh from finishing first as a presenter of her Senior Design Team's design paper for an Aerial Testing Platform (ATeP) at an American Institute of Aeronautics and Astronautics Region II Student Conference in Raleigh, N.C., Fowler was excited about what the win will mean for the seven-member team. "It means we'll get our paper published and we'll be able to go on to the AIAA Science and Technology Forum and Exposition," she said. The paper was titled, "ATeP - UAV Sensor Testing Platform." The team adviser is Dr. Brian Landrum. Besides Fowler, team members are Josiah Thomas, Iris Lin, Bryant Finney, Hope Green, Robert Branch and Michael Guyton.
"I spend a lot of time studying but I still try to be active on campus," Fowler said. She is a member of the UAH Lancers. She's also a Charger Chaser who supports the College of Engineering by assisting with recruiting and retention activities, and for two years she was a member of the UAH Concrete Canoe Team.
Through a friend and Edwin Guthrie, UAH assistant to the provost for special projects, Fowler also learned about and applied to UAH's Systems Management and Production Center (SMAP). SMAP provides students real-world employment opportunities under a UAH contract. Her work there draws her into the world of Computer Assisted Design (CAD) and 3-D printing to create prototypes.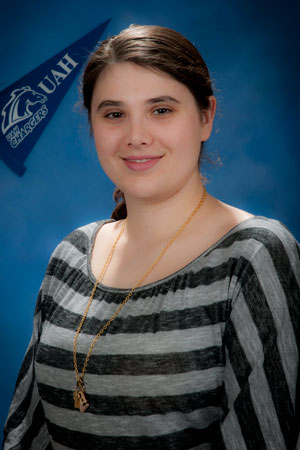 Aaron Sexton / UAHuntsville
Graduating senior Annalisa Fowler has been active on the UAH campus and also maintained a 3.9 grade point average.
"I work with rapid prototyping and I do support models" she said. "It's a really fun process and you learn a lot about mechanical structures." SMAP has provided her the opportunity to get real-world engineering experience while still an undergraduate. "I have been able to work with contractors and upper level engineers in the field, and I get to see what they do. It definitely has influenced me."
Fowler is one of many shining stars in the SMAP Center, said Dr. Gary Maddux, the SMAP director who oversees UAH's largest research center. "Our focus is to work with local students and provide them with the opportunities to jump-start their careers, especially within the area of defense, which is the driver for the local economy," he said.
"Many of us - myself included - had to work a variety of jobs to get through college," Dr. Maddux said. "Mine included chicken cook, carpenter, bag boy and forklift driver. None were very glamorous."
SMAP's guiding principle is that today's students need not only a degree but also related work experience in order to achieve, Dr. Maddux said. "We strive to help all of our students work within their chosen field and within a professional environment so that this experience may be achieved," he said. "We are flexible in our policies, but rigid in that we expect high quality work from those who participate. It is extremely rewarding to be able to provide an environment and a program where students like Annalisa can really flourish, which obviously she has done."
Fowler's decision to choose UAH for her undergraduate education came as a result of an unusual sequence of events on her day touring the campus. "I really enjoyed the campus feel," she said. "On my campus tour, I got to speak to the College of Engineering chair and several professors."
Stormy weather that day led to a tornado warning. "I was taken to the safe area in Technology Hall with the chairman and the members of the Moon Buggy Team, and got to talk with my now classmates," Fowler said. "It was really unlike any campus tour I had been on, and it could have gone poorly or really well. It turned out that it went really well."
In the future, Fowler said she interested in exploring engineering opportunities in the nanotechnology world and she wants to pursue a master's degree. "I haven't really made my final decisions yet. Ideally, what I'd like to do is work and earn my masters at the same time, or receive a research assistantship."
Her undergraduate experience enthused her so much that UAH is one of the universities she has applied to for her graduate education. "It's been really cool."
---
You may also be interested in: