Standout student shows how UAH experience is more than sum of its parts
HUNTSVILLE, Ala. (April 15, 2013) - If incoming freshmen want to know how to make the most of their experience at the University of Alabama in Huntsville (UAH), they need look no further than Nadia Araiinejad. The graduating senior and biology major has managed to not only take advantage of nearly every aspect of college life since becoming a Charger in August 2009, but to succeed phenomenally at each one.
Araiinejad, an Iranian-American and Huntsville native, was recruited by Chargers Track & Field during her senior year at Grissom High School. "I chose UAH because I got a track scholarship, but I also knew it would provide me with the best education," she said.
Once she arrived on campus, however, she decided she wasn't going to settle for being "just" a student athlete. Instead, Araiinejad took on a full slate of extracurricular activities, including participating in the Student Athlete Advisory Committee, helping to re-charter the Fellowship of Christian Athletes, and becoming a Peer Academic Leader (PAL).
"I'm that type-A personality who has to be busy all the time," she said. "And I think being an athlete totally helps me too. I wanted to graduate in four years, so I knew I had to balance practice, having fun, eating, studying, sleeping - I had to micromanage my schedule if I wanted to fit everything in."
To do so, Araiinejad relies solely on an old-fashioned paper planner. "I have no idea how to use Google calendar! My PAL supervisors try to get me to use it, but I love being able to cross things out," she said. "It's such a good feeling!"
But while Araiinejad's system may be anachronistic in this age of smartphones, it is clearly working. Last semester she earned a 4.0 GPA while balancing an 18-credit course load. And this season, she qualified for three events at the upcoming Peach Belt Conference Track & Field Championships.
"Nadia is going to be our all-around utility girl at the Championships, competing in javelin, high jump, and pole vaulting," said Soyini Thompson, assistant coach of the women's Track & Field team. "You name it and she can do it. She steps up and does what it takes."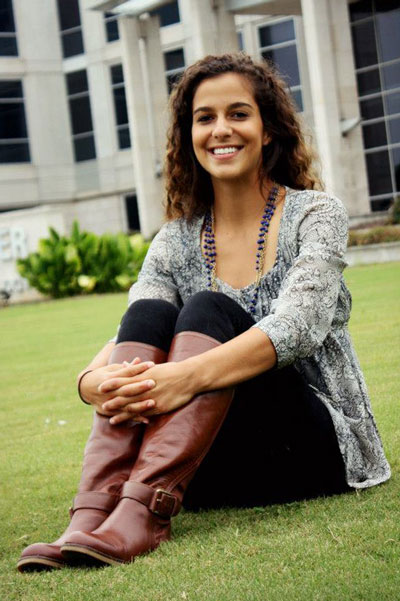 UAH Senior Nadia Araiinejad
It's a can-do attitude that permeates everything Araiinejad takes on. Amanda Hill, resident director at Charger Village and Araiinejad's PAL program supervisor, called her "a blessing" to have on staff, citing her willingness to go above and beyond.
"Nadia works very hard with students during her tutoring hours, and will give her fellow residents extra time and help, outside of what is required of her, just to make sure the students understand their work better," said Hill. "She gives her very best in everything she does."
UAH has exceeded my expectations beyond belief and fulfilled my desires educationally, athletically, and socially.
Nadia Araiinejad
UAH Senior
Which also explains how Araiinejad ended up being elected UAH's 2012 homecoming queen. "At first I was hesitant about accepting the nomination," she said. But with a little encouragement from her mother, she ended up embracing the challenge and hitting the campaign trail with her trademark determination and work ethic.
"I made a funny video in which I explained everything I do at UAH and sent that out instead of crowding up the walls with paper," she said. The video was a huge success, and in October, Araiinejad was elected homecoming queen.
"I did get a crown," she added, laughing. "But I don't wear it a lot."
As for what's next for this intrepid Charger, Araiinejad will head to Mobile after graduation to continue her education. "I always wanted to go into healthcare, but I didn't know exactly what I'd be doing until a physical therapist came and spoke to my Introduction to Health Professions class," she said. "So I'm going to the University of South Alabama to be a physical therapist."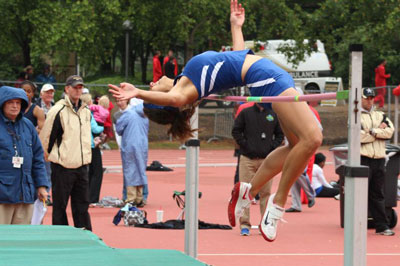 Nadia competing in the high jump on behalf of the Chargers Women's Track & Field team.
Thanks to the solid academic foundation she's received here at UAH, she feels ready to face the rigors of graduate school. "I think it was tough here and it pushed me here, and it definitely prepared me for physical therapy school. It was a lot of studying but I feel like I learned a lot and the teachers have prepared me well," she said.
Of course, not every incoming freshman will be an athlete, an academic superstar, a tutor, an advocate, and homecoming royalty in just four short years. But whatever they want to make of their college experience, all students have the opportunity to grow both academically and socially at UAH. And that's something the school prides itself on, said Ingrid Hayes, Assistant Provost for Enrollment Services.
"UAH is known for its academics. But we also have a vibrant campus life with over a hundred student organizations that run the gamut from recreational and religious to community service and leadership. You can come here and cheerlead, write for the student newspaper, help build a moonbuggy, or practice martial arts," said Hayes. "We encourage everyone to make the most of their time here, both inside and outside the classroom, and that's something Nadia has done to the fullest."
As she winds down her last few weeks as a Charger, Araiinejad admitted she is "sad to leave." But one thing she doesn't have is regrets. "UAH has exceeded my expectations beyond belief and fulfilled my desires educationally, athletically, and socially," she said. "I 100% think I made the right choice coming to UAH. I know I did."
---
You may also be interested in: