HPE's David Kyle featured in Coolture™ Magazine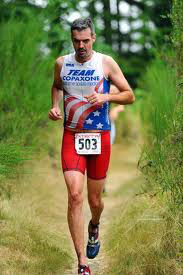 HUNTSVILLE, Ala. (February 11, 2013) — University of Alabama in Huntsville's (UAHuntsville) David Kyle, senior associate director of Health and Physical Education (HPE) was recently featured in Coolture Magazine.
Coolture™ LLC was founded in 2009, to develop and market fashionable cooling apparel for people who suffer from chronic diseases such as Multiple Sclerosis and whose symptoms are stressed or aggravated by heat. The Coolture™ cooling vest is designed to maximize physical endurance with special materials that help facilitate cooling provided by frozen thermal packs.
Kyle was diagnosed with Relapsing/Remitting Multiple Sclerosis (RRMS) more than 11 years ago. After the devastating diagnosis, Kyle turned into a "couch potato" and battled depression for a time. He fought back, taking control of his mind and body and began focusing on strength and endurance training for triathlons.
RRMS is one of four internationally recognized forms of MS. RRMS is distinguished by relapses (also referred to as exacerbations) during which time new symptoms can appear and old ones resurface or worsen. The relapses are followed by periods of remission.
Kyle modestly acknowledges, "doing pretty good" in 2012 athletic contests. He came in first place for the 2012 ITU Duathlon World Championships in Nancy, France; and second place, for the Triathlon World Championships-Silver Medal in Auckland, New Zealand.
To read David Kyle's "Hero Profile" by Coolture Magazine, please visit: http://cooltureusa.blogspot.com/2013/02/heroes-david-kyle.html
---
You may also be interested in: