UAHuntsville alumna Deborah Barnhart delivers keynote address to raise funds for student leader scholarships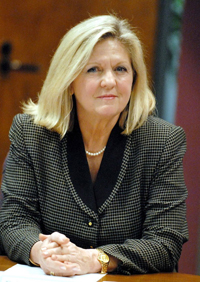 HUNTSVILLE, Ala. (February 11, 2013) — University of Alabama in Huntsville (UAHuntsville) alumna Deborah E. Barnhart ('75 BA English) will give the keynote address for The Huntsville Branch of the American Association of University Women Benefit Luncheon, "Breaking Through Barriers," on Friday, March 1.
The American Association of University Women (AAUW) scholarship luncheon will begin at 11:30 a.m., at the Valley Hill Country Club.The annual event funds travel scholarships for students to attend the National Conference for College Women Student Leaders (NCCWSL). AAUW and the UAHuntsville Women's Studies Program have partnered on many leadership and networking events.
Dr. Barnhart is CEO and Executive Director of the U.S. Space and Rocket Center. Her talk is entitled "Building a STEM (Science, Technology, Engineering and Mathematics) Generation."
A Huntsville native, Barnhart is a graduate of S.R. Butler High School. She was previously employed as a vice president for three major corporations, including Honeywell, and United Technologies Hamilton Standard Space Systems International, Inc. Barnhart also served as a senior manager of government and media relations for McDonnell Douglas Aerospace. In 2012, Alabama Governor Robert Bentley named Barnhart to the Alabama Spaceport Authority Advisory Task Force.
Barnhart joined the U.S. Navy and rose to the rank of captain. She earned a bachelor's degree in English from UAHuntsville, an MBA from the Massachusetts Institute of Technology and a Ph.D., in education from Vanderbilt University.
Luncheon tickets are $35 (each), or the amount of a ticket(s) may be donated directly to the NCCWSL travel fund, either through UAHuntsville Women's Studies (to fund a UAHuntsville student) or to the local AAUW fund that assists students from several local schools. To purchase tickets, please contact Ellie Lienau at elienau@yahoo.com or 256.852.4802 or Amanda Jarrett at apjarrett@gmail.com or 919.610.6581.
AAUW presents leadership scholarships each year to deserving UAHuntsville women students to attend the NCCWSL. This year the conference will be held at the University of Maryland, College Park, Thursday, May 30 through Saturday, June 1.
AAUW empowers women and girls through advocacy, education, philanthropy, and research. AAUW is a nonpartisan, nonprofit organization with more than 150,000 members and supporters across the United States, as well as 1,000 local branches and 700 college and university partners. Since AAUW's founding in 1881, our members have examined and taken positions on the fundamental issues of the day —educational, social, economic, and political.
---
You may also be interested in: